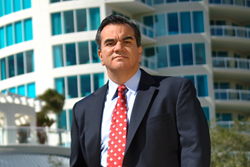 We will help people start and grow their businesses and will do our part to heal the American economy
Tampa, FL (PRWEB) January 28, 2014
Experienced securities regulatory attorney Kevin Carreno, a member of the FINRA Board of Governors, has joined with nationally-recognized crowdfunding expert Kendall Almerico and Hispanic securities lawyer George Guerra to open http://www.FundHub.biz, a website offering affordable compliance services to Regulation D investors, issuers and broker-dealers. Fund Hub will expand into compliance services for JOBS Act equity crowdfunding investors, businesses and broker-dealers as those laws go into effect.
"With Fund Hub, we make the new compliance and due diligence requirements from the SEC affordable for everyone involved in the funding process," Carreno says. "We will help people start and grow their businesses and will do our part to heal the American economy."
Fund Hub is intended to provide user-friendly, easy to understand and affordable compliance services for businesses raising funds and investors who are providing them. As the JOBS Act rules become law, and equity crowdfunding is legalized, Fund Hub will also provide services in that market.
"There is a wide-spread thought amongst broker-dealers that they do not want to get into the JOBS Act equity crowdfunding space due to the risks and expenses," Carreno says. "With Fund Hub, we will make equity crowdfunding affordable and profitable for broker-dealers, and help small issuers raise funds through this new opportunity."
For more information or for media inquiries or interviews, contact Kendall Almerico at Media(at)FundHub(dot)Biz or by telephone to 813.410.4658.
About FundHub
Fund Hub (http://www.FundHub.Biz) provides compliance and due diligence services for broker-dealers, issuers, investors and equity crowdfunding portals in connection with Regulation D offerings, JOBS Act offerings and other securities offerings. Fund Hub combines securities industry expertise with state-of-the-art digital tools to affordably provide compliance services and assistance to those raising capital or investing in businesses. Fund Hub fills a significant need in the securities and private financing industry by allowing broker-dealers, investors and issuers to have an economical alternative to compliance service provided by traditional law firms or online companies without the securities industry expertise required for effective SEC compliance.
About Kevin Carreno
Kevin A. Carreno, J.D. is one of 25 members of the FINRA (Financial Industry Regulatory Authority) Board of Governors, and is currently part owner and a principal of International Assets Advisory, LLC, a small FINRA member firm involved in investment banking, institutional and retail business based in Orlando, FL. Mr. Carreno has over 25 years experience as a lawyer in private practice, in-house counsel and in a variety of senior management positions including Chief Compliance Officer, Chief Operating Officer and Chief Executive Officer with several brokerage firms. He has represented individuals and small firms in FINRA enforcement proceedings, new and continuing membership applications, examinations and investigations. Mr. Carreno has been appointed as an independent consultant in SEC, FINRA and various state enforcement matters, and has served on the Board of the Florida Securities Dealers Association and as a member of the State Legislation and Regulation Committee of the Securities Industry Association (n/k/a SIFMA). He currently holds the Series 4, 7, 24, 53 and 79 licenses and is a member of the Colorado and Florida Bars.
About Kendall Almerico
Kendall Almerico, J.D. is a Board Certified attorney with 25 years experience who is considered one of the top crowdfunding experts in the United States. Mr. Almerico and his crowdfunding websites have appeared in USA Today, Washington Post, Washington Times, Huffington Post, the New York Daily News, Business Insider, Fox Business Network and hundreds of newspaper, blog, radio and television interviews including CNN, CBS, ABC, NBC, FOX and The Sean Hannity Show. Mr. Almerico is also CEO of http://www.ClickStartMe.com, a crowdfunding site that provides individuals and businesses with an easy-to-use website to raise funds through online crowd funding. Mr. Almerico is also the founder of http://www.CrowdItForward.com, a charity-based crowdfunding site that performs "Random Acts of Crowdfunding" and raises money for people in need through a 501(c)(3) charitable foundation.
About George Guerra
George Guerra, J.D. is a Hispanic securities lawyer with more than 20 year of experience. Mr. Guerra is licensed in California and Florida but has represented clients in matters throughout the United States including New York, Chicago, Houston, Dallas, Atlanta and Washington D.C. He is AV Peer Review Rated by Martindale-Hubbell, and has been recognized by his peers in The Best Lawyers in America and Florida Trend magazine's Legal Elite. Mr. Guerra's skills have been critical in helping resolve countless disputes on an individual and industry-wide basis. He has represented clients in all forms of securities matters, and worked for one of the largest securities brokers in the world, before founding his own law firm and securities law practice. As a former banker and trained credit analyst, George Guerra has a well-developed sense of how Hispanic businesses works and how Latino business professionals operate.