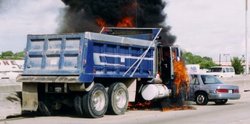 Houston, TX (Vocus) February 9, 2010
Along with frigid temperatures come the inevitable news stories involving house fires- stories of families who have lost loved ones and material possessions in fires caused by space heaters. According the National Fire Protection Association in 2008 fire departments responded to over 1,450,000 fires. Over 3,000 civilian deaths and 16,000 civilian injures occurred as the result of these fires. Smoking, heating equipment, electrical and lighting equipment and arson are the four leading causes of fires.
ATA Associates is highly experienced in fire cause and origin analysis- the science of fire investigation. ATA is pleased to announce an expansion of its fire cause and origin services. Current and potential clients are eligible for a free initial consultation on fire cases- a $250 value. ATA experts serve their clients from start to finish on complex cases. From evaluation of the scene and evidence collection, to identification of potential ignition sources, ATA understands fire patterns and behaviors. Proficiency in investigation and analysis, report writing, deposition and trial testimony, makes ATA a leader in the industry.
According to ATA CEO, Bob Swint, "Working on two noteworthy fires helped shaped my experience. While at NASA, I assisted in the investigation of the Apollo 1 fire which killed 3 Astronauts. I also was the lead investigator in the State of Texas Capital fire. Both cases taught me the complexities of analyzing fire cause and origin."
ATA Associates has investigated aircraft, boat, tanker truck, appliance, automotive, gas pump, factory, apartment and industrial fires to name only a few.
Please contact ATA Associates for more information about our fire investigation and expert consulting services.
About ATA Associates, Inc.
ATA Associates is a leading provider of accident reconstruction, product failure analysis and technical consulting services. ATA does it all with a level of expertise and integrity unparalleled in our field. In fact, ATA Associates has provided expert witness services to defense and plaintiff attorneys for over 30 years earning a level of credibility unsurpassed in the industry. For additional information visit http://www.ataassociates.com.
# # #