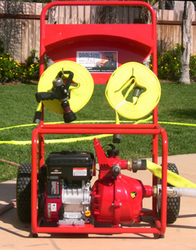 In certain areas, such as Southern California, wild fire are inevitable. It is not a question of 'if' there will be a wild fire, it is 'when' will the next wild fire occur.
Poway, CA (PRWEB) March 25, 2010
Bart Tuttle, President of Poolside Portable Pumps, says that homeowners should be aware of three things:
1. In certain areas, such as Southern California, wild fires are inevitable. It is not a question of 'if' there will be a wild fire, it is 'when' will the next wild fire occur.
2. In a wind driven fire storm, the one thing we have control over is the "fuel." Eliminating this fuel and preparing a home with water and fire retardant (if time permits) prior to evacuating as well as having a well thought out preparedness and evacuation plan will hopefully improve the chances of a home surviving a wild fire.
3. Always evacuate immediately when advised to do so.
Bart Tuttle recently released a series of free videos to help homeowners start planning now for the inevitable onslaught of future wild fires. During 2003 and 2007 wild fires ravaged much of San Diego County in California, there were tales of homeowners staying behind trying to protect their properties with garden hoses. According to Bart, this is very foolish. Fire fighting should be left to professional fire fighters who train day in and day out and have proper protective gear. The question for many homeowners in areas where wildfires are becoming the norm is whether there is anything they can do, beyond brush clearance, that could help save their property?
Bart Tuttle, a resident of San Diego County, California asked the same question. His home in Poway, near San Diego, overlooks acres of canyon. Bart and his family were evacuated during the 2003 and 2007 fires that destroyed many homes in Poway, RB, and elsewhere in San Diego county. But since 2008 he has developed his own company that sells fire prevention pumps that could increase the likelihood that homes could survive a wild fire.
Poolside Portable Pumps is the name of the company formed by Bart Tuttle as his response to the wildfire threat. Bart felt that it was ironic that many of the homes that burned had thousands of gallons of water next to them in swimming pools, but this water was rarely made the most of in fire prevention and preparedness due to the lack of professional grade, true high pressure pumps, and fire retardants. Bart researched the possibility of pumping water from a swimming pool onto the home. He came up with fire preparedness pumps of varying sizes that powerfully remove water from a swimming pool or a pond to prepare a home facing a potential wild fire situation.
The device can pump 125 gallons per minute and shoot at a pressure of 170 PSI. depending on the pump model. The jet of water can reach heights of over five stories, saturating the outside of a house and flammable vegetation commonly around homes, like eucalyptus, sage and dry brush. The fire pump cart system is designed for single-person operation. Adjustable throttle settings make it possible for an average person to use.
These pool fire pumps can also use foam and gel to spray over a property. Bart does not want to encourage anyone to stay behind to combat a wildfire. Instead he recommends that home owners use the portable pump to prepare for a fire by covering their property with water and fire retardant. This can go a long way towards protecting a home.
Bart also believes in helping the professionals. His powerful portable pumps are professional grade, powered by a gas or diesel motor (depending on model) and include fire department grade hose and fittings, Bart also supplies a yard sign when a pump is purchased. This is to show the firefighters that there is professional grade equipment at hand they can use to fight a fire.
Many times during a wild fire event the water pressure is low or a driveway or road is too narrow and inaccessible for a fire truck. When the firefighters arrive at a home, on hand equipment with which to fight a fire sitting alongside a home that has already been protected by fire retardant foam and gel can make the likelihood of saving a home much greater.
If fire fighters do not get to the property, which is some times the case when a fire is out of control, the products that the home owner sprays on his/her home will make saving a home more likely. In 2003 and 2007 a lot of homes burned down, if residents had had appropriate fire preparedness equipment and supplies with which to prepare the home before evacuation, it would have been a great help to themselves and fire fighters.
The company also offers a free demo to local residents. The pumps can be delivered to Poway, RB, Rancho Bernardo, San Diego, Rancho Penasquitos, Escondido, El Cajon, San Marcos, La Jolla, Rancho Santa Fe, Black Mountain, Del Mar and Rancho Santa Fe and shipped anywhere in the Continental U.S.
Poolside Portable Pumps will be exhibiting at the Poway Street Fair on Sunday, April 25 2010 and at RB Alive on Sunday, June 6, 2010.
Contact:
Bart Tuttle
Poolside Portable Pumps
12320 Oak Knoll Road, Poway, CA
Phone: (858) 513 2677
###