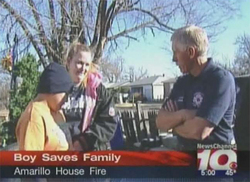 Mount Pleasant, PA (Vocus) May 5, 2010
The Amarillo Fire Department has seen a dramatic decrease in the number of fire-related deaths since the inception of their fire prevention and safety program. The department reported 13 fire deaths in 2008 and zero casualties in 2009.
Captain Bob Johnson, fire safety education specialist for the department, attributes this largely to their SCOTTY Fire Safety Houseand the fire safety and prevention lessons that he and his department teach to area school students. The program targets 3rd graders at 48 local schools year round.
"A house fire occurred in a small wood frame house just after 11 p.m. The boy's grandmother discovered the fire and went to awaken her 10-year-old grandson… he ran to his grandfather's bedroom, woke him and told him to crawl outside- staying low. The boy prevented his grandmother from going back inside for her cell phone.
We believe that his actions possibly saved the life of his grandfather, and perhaps even, his grandmother," stated Johnson.
The child told firefighters that he knew to crawl low to the nearest exit and never go back inside a burning building as a result of the lessons he learned during his fire education in the SCOTTY Fire Safety House at school.
The trailer-based SCOTTY Fire Safety House is manufactured by Mobile Concepts by Scotty, a specialty vehicle manufacturer located 40 miles southwest of Pittsburgh, Pennsylvania. The hands-on mobile classroom is designed to resemble the inside of a house so that participants feel more at ease and are better able to apply the lessons being taught.
The "house" comes fully-equipped with options for a life-like and functional kitchen area, living room with fireplace and telephone system for practice calling 9-1-1, bedroom with heated door, control room, non-toxic smoke simulation, severe weather training program, an escape window and ladder as well as many other life-like props. For more information, visit http://www.MobileConcepts.com
Further proof of the effectiveness of the SCOTTY Fire Safety House lessons and prevention programs can be obtained on the Testimonials and Documented Saves portion of the manufacturer's website at http://www.mobileconcepts.com/testimonials.aspx.
Video newscast regarding this story available upon request. Contact Kim Tuscan at 724-542-7640.
To share your department's documented save, please contact us at kim(at)mobileconcepts(dot)com.
###