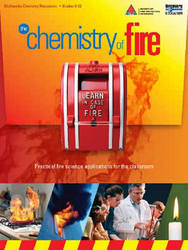 This program will reach thousands of teachers, students and families.
Bethesda, MD (PRWEB) January 21, 2008
The Society of Fire Protection Engineers (SFPE) has partnered with Discovery Education to create a new high school program titled The Chemistry of Fire. The program is funded by a grant from the U.S. Department of Homeland Security, and is being furnished free to high schools nationwide.
The Chemistry of Fire is geared to high school chemistry students. It will teach students the science behind fire as a way for students to fully understand the dangers of fire. As a result, it will increase the awareness of fire and the importance of home fire prevention.
The interactive program includes a teacher's guide with five lesson plans, a DVD that demonstrates exciting experiments included in the lessons, three classroom posters and a web site where teachers and students can find more classroom and career resources. The program is aligned to the National Science Teachers Association Standards for 9th - 12th grades.
"Each year in the United States more than 3,000 people die and 18,000 are injured as a result of fire. Our goal is to bring the science of fire to the classroom as a way of increasing the awareness of fires and how to prevent them," says Chris Jelenewicz, SFPE Engineering Program Manager. "It fills a void in the high school chemistry curriculum because this information isn't currently provided in any high school texts."
"As a result of this partnership between Discovery and SFPE, high school students across the U.S. will have access to a high-quality program that will deliver enlightening and powerful fire-safety messages," said Mary Rollins, director of sponsorships for Discovery Education. "This program will reach thousands of teachers, students and families."
Currently, there is a nationwide shortage of fire protection engineers. Their skills are necessary to protect people and property from the threat of fire. These lessons will help students explore career opportunities in the field of fire protection engineering.
The program will be released to nearly 20,000 high school science department chairs nationwide in mid- January 2008. More information is available by contacting Chris Jelenewicz at the SFPE email address included with this release.
About Discovery Education
Discovery Communications revolutionized television with the Discovery Channel and is now transforming classrooms through Discovery Education. Combining scientifically proven, standards-based digital media and a dynamic user community, Discovery Education services empower teachers to improve student achievement. Already, more than half of U.S. schools access Discovery Education digital services. Explore the future of education at http://www.discoveryeducation.com.
About Society of Fire Protection Engineers
Organized in 1950, the Society of Fire Protection Engineers is the professional society for engineers involved in the field of fire protection engineering. The purposes of SFPE are to advance the science and practice of fire protection engineering, maintain a high ethical standing among its members and foster fire protection engineering education. SFPE's worldwide members include engineers in private practice, in industry and in local, regional and national government. Chapters are located in Canada, China, France, Italy, Hong Kong, Japan, Korea, New Zealand, Saudi Arabia, Singapore, Spain, Sweden and the United States.
More information about SFPE can be found at http://www.sfpe.org.
###