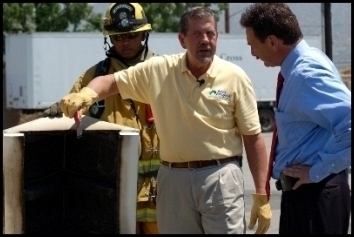 Rancho Santa Margarita, CA (PRWEB) July 21, 2006
Fire season is here, and it may take more than a smoke detector to protect your family. It takes only minutes for a small spark to turn the typical living room into an inescapable inferno. No Burn of California offers not only life-saving fire retardant products, but also valuable tips.
Fire safety requires an inclusive program. And while most fire safety plans focus on what to do once a fire starts, prevention is always your best defense. Jon Traw, partner, No Burn of California explains the powerful life-saving fire retardant products to KABC-TV's consumer specialist, Ric Romero. No Burn of California offers the following 20-step program to protect you, your family, and your home with its contents:
#1. During home construction or renovation, treating the wood with a fire retardant No Burn of California
is your best defense against your home catching on fire and flames spreading. Direct-to-wood fire retardants must be applied when walls and attics are open.
#2. On existing homes, use fire retardant paint-like products that are applied like primer to keep walls from igniting. Some retardants--like No Burn of California's -- can lessen the toxicity of the smoke by 80 percent. Fire retardants should be applied to garage walls as well and the home's interior. As an added benefit, find a product that dually protects against mold. Make sure the product is non-toxic and non-carcinogenic.
#3. Spray fire retardants around "hot spots" such as electrical outlets.
#4. Don't overload electrical outlets or hide electrical cords under rugs. Always replace worn electrical cords.
#5. Fire retardant sprays for cloth-covered furniture such as No Burn of California's Fabric Gard are effective in slowing and in most cases stopping a fire in its tracks. Again, if you use a fabric fire retardant, make sure it is non-toxic and non-carcinogenic. These types of liquid sprays are usually clear, odorless and for use on dry-clean material only.
#6. Take extra care in the kitchen, especially when cooking with hot oil, where more than half of home fires begin. Never leave young children alone in the kitchen. Have a fire retardant-treated towel ready for any unexpected kitchen fires.
#7. Never leave fires unattended, whether candle fires, lit cigarettes, fires in fireplaces or in outdoor cookers. Keep matches and lighters out of children's reach.
#8. Create a fire-safe landscape. Remove dead and overgrown vegetation. Within 30 feet of your house, create fire breaks by choosing high-moisture, fire-resistant plants, adding patios, pools and rock gardens, and carefully pruning trees and shrubs.
#9. Smoke alarms should be placed on every level of your home. Keep the alarms free of dust, test weekly and change batteries every year. Buy alarms with 10-year warranties.
#10. If economically feasible, install sprinklers. But remember, while they can douse a fire, the home's contents may be destroyed and mold may result.
#11. Make a fire action plan and teach everyone in your home how to escape if there is a fire. Practice the plan.
#12. Keep exits clear and make sure everyone can quickly and easily grab keys to doors and windows.
#13. Get in the habit of closing doors at night to slow the spread of a fire.
#14. Do not run washers, dryers or dishwashers, or leave appliances on standby while you are asleep or away.
#15. Take special care when you are tired or when you've been drinking.
#16. Check pilot lights and smoke detector batteries regularly.
#17. Purchase good fire extinguishers and keep them where they are readily available.
#18 Keep escape ladders in second story bedrooms.
#19. Screen all fireplaces.
#20. Don't place heaters, lamps or candles near fabrics or combustible materials.
See the video demonstrations with KABC-TV's consumer specialist, Ric Romero. http://abclocal.go.com/kabc/story?section=consumer&id=4367177
For more information on fire prevention or fire retardant products, please call 888-7NOBURN (888-766-2876). No Burn of California's website is http://www.noburnca.com.
# # #