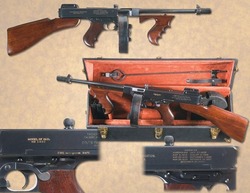 CONDITION-RARITY-DESIRABILITY The Ashby collection is over 1,200 items. Over 30 Class III firearms. A Colt Model 1921 Thompson Sub-machine Gun with FBI carrying case and 50 round drum. Possibly the largest collection of NSKK memorabilia in existence.
Moline, IL (PRWEB) July 23, 2010
The William Ashby Firearms Collection consisting mostly of European, Japanese and U.S. Military firearms will be presented in a three day sale September 10-12th at Rock Island Auction Company. This is the finest Military arms collection to ever come to auction.
The auction contains unusual items such as a rare Nazi African Corps BMW R75 motorcycle and sidecar, unique Mondragon Luftwaffe rifle model 1908 with ultra rare drum magazine, experimental Nazi Steyr serial number 2 sheet metal carbine, rare Luger cartridge counter, rare last ditch VG 1 through 5 rifles, over 85 sniper rifles including Long Rail, Short Rail, Swept Back, Single Claw, Double Claw, High Turret, Low Turret and Semi Turret, over 100 Lugers, over 100 K98 rifles and over 200 U.S. Military Arms that include sniper rifles, M1 Garands, Johnsons, 1903's and trench shotguns as well as quality 1911's and Early Autos. a total of over 1200 lots of strictly Military items in this 2700 lot firearms auction.
This is a once in a lifetime opportunity to own the rarest of the rare!
Full day preview Thursday, September 9, 2010. To setup a special preview call Rock Island Auction for an appointment 800-238-8022.
Absentee bidding available on our website and by telephone. You can order a two volume full color catalog set with over 6000 photos on our website or call us. Rock Island Catalog Military Firearms Auction.
# # #