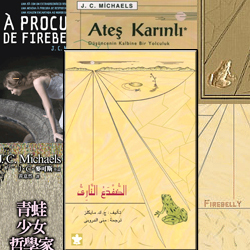 An adventure on the edge between wild and domestic [that leads] to the change of heart of a young girl.
Boston, MA (PRWEB) August 11, 2008
The American novel Firebelly -- soon to be translated into at least eight languages, and winner of numerous awards for adult, young adult, and visionary fiction as well as for philosophy, and design -- is now available in Arabic as 'Al Dufdaa Al Nari' by Al-Balsam Publishing and distributed in the U.S. by Bookmasters.
Firebelly tells the story of a young girl living in the confusing world of divorce, a teenage girl struggling to know the difference between what she can be and what she must be, and a firebelly frog who must make a choice between a comfortable life as a pet and an adventurous life in the wild. Beneath the storyline are ideas from existentialism, especially Sartre, Dostoyevsky, Heidegger, and Kierkegaard.
This translation is an example of the new face of the international book market where a first-time novelist from Boston and a small publisher from Cairo can meet through a bookfair in Bologna and create international media headlines. This collaboration demonstrates the growing opportunities for writers, publishers, and entrepreneurs-of-ideas in the emerging global economy.
The author of Firebelly, J.C. Michaels, was inspired to write this story when his daughter's pet frog was accidentally lost in a rental car. He consoled her by suggesting the frog's unexpected appearance to the next renter might change someone's life. Shortly after this incident, while trekking in Nepal, Michaels began writing a story of how something small and insignificant could be transformed into something grand and meaningful.
----EDITORIAL REVIEWS----
"A brilliant story ... filled with lessons of will-power and the challenge and love of life in spite of difficulty." 'Al Ahram Al Arabi' (Egypt)
"A story of discovery and enchantment ... about the challenge of free will and the human condition ... that culminates in an instant of pure magic and revelation." Espresso (Portugal)
"A symbolic, attractive and distinct philosophic novel ... that instigates youth to use their minds and to think about their existence." 'Nisf Al Donia' (Egypt)
"An adventure on the edge between wild and domestic [that leads] to the change of heart of a young girl." Prof. Dehui Yu (Taiwan National University)
'Al Dufdaa Al Nari' will be featured in a six minute segment on 'Good Morning Egypt'---a program broadcast by satellite throughout the Middle East, Europe, and North Africa.
--------------------------------------
About the Author
J.C. Michaels holds a degree in piano performance, a graduate degree in cognitive science, and attended the New School for Social Research. He has a life long interest in epistemology, the history of ideas, the philosophy of science and mathematics, and studies of mind and brain. Michaels spent over ten years as a river guide in the U.S. and abroad. When not writing, he runs an educational software development company.
For more information see Firebelly.
Distributors and Retailers:
Arabic (Al Dufdaa Al Nari) Distributor: Bookmasters. Order directly from Atlasbooks at 1-800-266-5564.
English (Firebelly) Distributor: Baker and Taylor, New Leaf. Order directly from Amazon.com or from Philograph.
Contact:
Balsam Saad
Al Balsam Publishing House
tel. (+2 02) 3762-7147
web: Al-Balsam
John Cristofano
Philograph
tel. 617-558-1038
web: Philograph
###