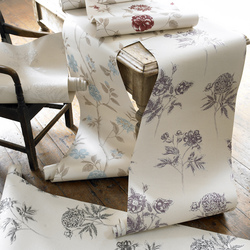 this collaboration is proof that good design can translate well across different mediums. These detailed designs look as good on wallpaper as they do on tiles
Cranbury, NJ (PRWEB) March 28, 2009
Fired Earth have launched their first wallpaper collection, with the help of Graham & Brown. The Fired Earth brand is well recognized in ceramics, paint and furniture, and has taken its artisan principles and applied them to wallpaper.
David Klaus, Senior Marketing Manager at Graham & Brown USA says: "this collaboration is proof that good design can translate well across different mediums. These detailed designs look as good on wallpaper as they do on tiles".
Each design has been handpainted and refined to produce an elegant, delectable capsule collection.
This capsule collection of two designs in a total of five colorways offers two classically stunning floral designs, Emily and Annabel, that will create a refined and elegant look to any room in the house. Emily is available in red and blue while Annabel is available in black, natural, and mauve.
The collection can be viewed and purchased at Fired Earth Wallpaper Collection
Wallpaper dimensions: 11yds long x 20.5" wide, covers 56sq.ft.
Available at http://www.grahambrown.com or 800-554-0887
The UK's leading wallcovering company, Graham & Brown is reinventing wall decor for the 21st century with designs that are instinctive, natural, always fun and decidedly cutting-edge. Founded over 60 years ago, Graham & Brown is recognized as an innovator and design leader combining modern technology, avant garde design and social responsibility. They always keep an eye toward the next generation by seeking new talent and placing a strong emphasis on sustainable production. Graham & Brown is revolutionizing the art of wall design.
Contact:
David Klaus
Senior Marketing Manager
Graham & Brown, Inc.
609-395-9200 x123
http://www.grahambrown.com
# # #