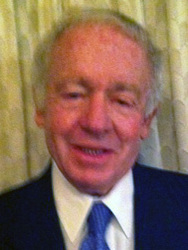 FireEar reduces home insurance premiums and at the same time reduces risk for insurance companies. The most affordable fire and freeze alarm system on the market, FireEar is a win-win for all.
Soquel, CA (PRWEB) November 23, 2010
FireEar Corporation, a leader in affordable home safety monitoring systems for fire, power and temperature, announced today the appointment of Gary Goddard to FireEar's Board of Advisors. Goddard brings forty-five years of insurance brokerage experience working with local, regional and multi-national brokerage firms to support FireEar's marketing initiatives in the insurance industry.
"I look forward to the opportunity to support FireEar's strategic marketing outreach in the insurance industry that can save lives and help home owners protect their property from fire and freeze damage, while creating cost savings for insurance companies and customers alike," said Gary Goddard, FireEar Board of Advisors. "FireEar reduces home insurance premiums and at the same time reduces risk for insurance companies. The most affordable fire and freeze alarm system on the market, FireEar is a win-win for all."
The FireEar FE-1100 monitor, recently named International CES Innovations 2010 Design and Engineering Awards Honoree, is a simple home monitoring device that works with the FireEar notification service to monitor the home for fire, power outages, indoor freezing and other abnormal temperatures. The temperature alerts can help lower the homeowner's energy bill and prevent pipe freezes. Fire detection alerts are activated by listening to the existing smoke detector. Homeowners are notified of alerts by phone, text message and email, with additional professional monitoring available for fire that contacts FireEar agents and the fire department.
"Gary Goddard is an exceptional insurance industry leader whose participation on our board of advisors will contribute to FireEar's effectiveness in partnering with insurance brokerage firms," said Mark Goodfriend. "His years of experience prove invaluable in advancing FireEar's mission to deliver affordable protection to the 96% of homeowners who have smoke detectors and will benefit from the ability to be notified when there is an emergency and they are not home. For our partners and customers alike, FireEar products provide a cost-effective, valuable service that is well worth the investment."
Over the years Goddard responsibilities have ranged from sales to managing director of world-class insurance brokerage firms. He is highly respected by all of the insurance companies that he did business with for his straightforwardness, honesty and integrity and valued by his clients for the high levels of service that he provided to them.
At Acordia, Inc., one of the nation's largest insurance brokerages and part of Wells Fargo & Co., currently known as Wells Fargo Insurance Services, Goddard was executive vice president, manager of property casualty operations and managing director of Acordia of California. At Acordia, Mr. Godddard was a member of their National Marketing Committee, which initially acted as a liaison between Acordia and the Insurance Market Place. Prior to Acordia he was executive vice president of sales and marketing at American Business Insurance Brokers, which was purchased by Acordia in 1994.
Gary has worked consistently in the insurance brokerage industry since 1961 to strengthen the companies he worked for and support their mergers and acquisitions. This includes working: as senior vice president of sales at both Sedgewick and Fred S. James acquired by Sedgewick, as both partner and sales and marketing director at Dinner Levison Co., acquired by Fred S. James, as vice president of sales at Frank B. Hall & Co. and at Western States Brokers sold to Frank B. Hall.
Gary has participated in insurance industry affairs serving as president of the Society of Insurance Brokers, chairing several committees for the CPCU Northern California Chapter, and as a board member of the Agents and Brokers Legislative Council, the Western Association of Insurance Brokers, and the Insurance Brokers Political Action Committee.
Goddard received his Chartered Property Casualty Underwriter designation in 1967 and became an underwriting member at Lloyd's London in 1988. He began his career in 1961 after graduating from Cal Sate University San Jose.
ABOUT FIREEAR
FireEar Corporation is recognized as a leader in home safety monitoring solutions for residences. Founded in 2007 with headquarters in Mountain View, California, FireEar's mission is to develop products for consumers delivering advanced fire, indoor freeze, power and temperature safety alerts through its flagship product, the award-winning FE-1100 monitor and alert system. FireEar's central monitoring station is an industry leader in response time. FireEar's partner program includes leading associations such as the Insurance Brokers and Agents of the West (IBA West) and is endorsed by the president of the San Francisco Fire Commission. More information can be found at http://www.FireEar.com.
# # #