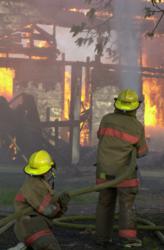 Action Training Systems is a multimedia development company and worldwide leader in innovative training systems for emergency responders.
Poulsbo, WA (PRWEB) May 24, 2011
When it comes to classroom training systems for our municipal firefighters, there are three essentials that a training professional looks for. They demand authenticity in the content, high quality visual aids to enhance learning retention and a comprehensive training system that aligns with NFPA 1001. The Firefighter I and Firefighter II series developed by Action Training Systems not only meets, but exceeds these expectations, and ATS is renowned throughout the industry for the exceptional quality and authenticity of their real-life firefighter training content.
When mastering the basics for certification or refresher training, seeing really is believing. The Action Training Systems program simplifies technical material and reinforces training objectives visually through DVD and computer based training (CBT) formats. Many professional firefighter trainers prefer the combined series, which includes the DVD or CBT series, PowerPoint presentations for instructors, question files to match the series and IFSTA teaching companions, like the Essentials of Fire Fighting 5th Edition manual and student workbook.
The interactive CBT format on the Iluminar Learning Management System (LMS) software platform is highly regarded as the premier format for firefighter training in the classroom. It addresses different learning styles and has been reported to deliver up to 50% greater knowledge retention. The program may be customized for each unique fire department, solving scheduling problems, reducing overtime costs and documenting training and compliance reports through such things as the automatic tracking and recording of student test scores and training times.
To address the needs of the greater emergency responder community, Action Training Systems has also released an Industrial Fire Brigade series and is currently producing and developing an Emergency Medical Responder (EMR) series to the NEMSES standard.
The Industrial Fire Brigade series includes the 12-title Incipient Level series, the new 11-title Exterior and Structural series and the StageIT emergency response simulator, which allows the creation of simulated emergency response scenarios for testing and training. These training series were filmed at actual industrial sites in the United States and Canada and show demonstrations of real industrial fire brigade members in action. With the release of these titles, ATS is quickly becoming renowned as an innovative leader in industrial firefighter training, enhancing the classroom training and improving safety for industrial fire brigade members and industrial emergency medical responders.
Action Training Systems is currently developing a 25-title Emergency Medical Responder (EMR) series and is already shipping the first titles. Teaching to the National EMS Education Standards (NEMSES), this series covers such essentials as Primary Patient Assessment, Behavioral Emergencies, Blood Sugar & Dialysis Emergencies, Cold, Heat & Submersion and Orthopedic Trauma. This series is essential in the EMS training field, specifically to those entities that train first responders, such as fire departments, industrial fire brigades, law enforcement, private security firms, FBI, ATF, border patrol and campus security.
Action Training Systems produces training programs for emergency responders in both the private and public sector based on nationally accepted training standards and only uses real emergency responder personnel to ensure the integrity and authenticity of the skills demonstrated and captured on video. Other training systems include HAZMAT, vehicle extrication, driver/operator, fire service rescue and fire officer development. For more information, visit action-training.com.
Contact Information:
Ed Waterman
Action Training Systems, Inc.
360.621.8661
EdW(at)action-training(dot)com
action-training.com
###