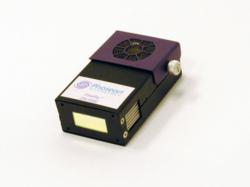 Hillsboro, Oregon (PRWEB) June 03, 2013
Phoseon Technology introduces the FireFly 25x10mm air-cooled UV LED curing product with 4W/cm² peak irradiance. This new 4W/cm² air-cooled product provides a small but powerful solution with high peak irradiance for full cure applications addressing space constraints in printers. FireFly products are suitable for digital inkjet, adhesives and small area curing applications where the simple and fast curing of heat-sensitive substrates is vitally important.
Utilizing Phoseon's patented SLM™ technology, the Phoseon FireFly™ provides customers with following benefits:

Air-cooled (seamless integration)
Single connector for data/power
Small form factor (small footprint)
Low maintenance
4W/cm² peak irradiance
While bringing the three-tiered benefits of UV LED curing (advanced capabilities, operating economics, and environmental advantages), Phoseon's products add additional capability with superior performance, integrated control, and outstanding reliability for customer's tough curing environments.
About Phoseon Technology
Phoseon Technology is a world leader in providing UV LED solutions for commercial and industrial applications. Phoseon's products deliver maximum UV energy, high performance, and real-world reliability for UV LED curing of inks, coatings and adhesives. The Company provides worldwide sales and support capabilities and can be reached at http://www.phoseon.com.