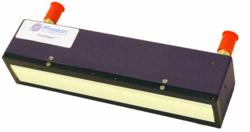 With this new high power water-cooled unit, Phoseon targets to meet the common 13" wide web length in the flexographic market.
HILLSBORO, Ore. (PRWEB) September 05, 2012
Phoseon Technology introduces a new member to its high power water-cooled product line, the FirePower™ 350x20mm. The new FP200/FP300 350x20mm product is ideally suited for the flexographic printing market where high speeds demand high-performance curing lamps. The FirePower products are offered in 12W/cm² or 16W/cm2 peak irradiance and come in standard various emitting windows. These high power units come with integrated control and user-friendly software providing customers' advantage of simple integration.
Emitting Lengths Available:

350 x 20 mm
300 x 20 mm
225 x 20 mm
150 x 20 mm
"With this new high power water-cooled unit, Phoseon provides a standard LED curing option for the common 13 inch web width in the flexographic market," says Richa Anand, Product Marketing Manager at Phoseon. "Phoseon continues to address its customers' and the market's needs by providing the right solution with the 350mm FirePower; both in 12W/cm² and 16W/cm² peak irradiance options."
UV LED curing brings significant advantages to the flexographic market including high throughput and providing customers flexibility of now using heat sensitive shrink wrap in packaging industry. These include: economic savings by offering instant on-off control, does not require costly ventilation, advanced capabilities such as straighter print paths and utilizing thinner, heat-sensitive substrates, and clear environmental advantages with no mercury use or ozone creation.
About Phoseon Technology
Phoseon Technology is a world leader in providing UV LED solutions for commercial and industrial applications. Phoseon's products deliver maximum UV energy, high performance, and real-world reliability for UV LED curing of inks, coatings and adhesives. The Company provides worldwide sales and support capabilities and can be reached at http://www.phoseon.com.