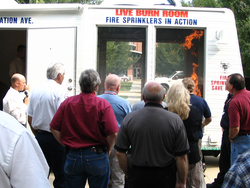 I compare the residential sprinkler initiative to smoke detector programs of the 1970s. People did not know what they were, and rumors were running rampant. The only way to raise awareness is to educate the public with facts
Mount Pleasant, PA (Vocus) October 21, 2010
In light of last week's Pennsylvania Senate vote to delay the residential fire sprinkler installation requirement, Mobile Concepts by Scotty president Anne Degre addresses a couple myths circulating about sprinkler systems and what it means to the average home buyer/owner.
"I compare the residential sprinkler initiative to smoke detector programs of the 1970s. People did not know what they were, and rumors were running rampant. The only way to raise awareness is to educate the public with facts," stated Degre.
Fact- Sprinkler heads deploy only in the area where fire has reached 160 degrees Fahrenheit- the temperature that melts the seal securing the head in the ceiling. The entire sprinkler system does not deploy at once. The goal is to contain or extinguish flames in that singular area.
What this means to the home buyer/owner- A house fire will not escalate and result in the entire loss of the structure. The sprinkler head(s) closest to the fire will help control and/or extinguish flames until firefighters arrive or the main water value is turned off. The potential water and fire damage will be limited to only that area instead of through the entire house.
The average cost of damages in homes with sprinkler systems was nearly $2,100 last year. In comparison, the average cost of damages in homes without sprinkler systems was approximately $45,000.
In addition, this has the potential to lower insurance claims resulting in lower premiums across the board because homes will be safer and at less risk for loss of property and human life. In fact, home insurance rates can lessen anywhere from 5 to 15 percent.
"As if that weren't enough, the peace-of-mind associated with these systems is priceless," said Degre. Allowing hypothetically more time and safer exit from the home is a benefit. Fire sprinklers and smoke detectors combined reduce the risk of dying in a home fire by as much as 82 percent compared to having neither.
Fact- The price to install a sprinkler system in a 2,000 square foot new construction home is on average only $3,500.
What this means to the home buyer/owner- Sprinkler system installation will not raise new construction home prices beyond the reach of buyers. As an example, buyers can expect the price financed in your home loan to be only $5 per month additional (at a 6.5% interest rate). It is anticipated that installation prices will drop as more homes are built with the systems.
Directly affected by the demand for installation, employment rates are anticipated to rise as more plumbers and inspectors are required.
"There are, of course, more confusing and contradicting opinions circulating. I could spend hours debunking myths and explaining the facts. That said, it is evident further public education is needed," stated Degre.
For more information, contact the Home Fire Sprinkler Coalition at http://www.homefiresprinkler.org.
Written by Anne Degre, President of Mobile Concepts by Scotty
http://www.MobileConcepts.com
Mobile Concepts by Scotty, a specialty commercial vehicle and trailer manufacturer located in the greater Pittsburgh area, supports the Home Fire Sprinkler Coalition and builds the only combination sprinkler demonstration and fire safety house trailers used to educate the public; so, they have first-hand proof of the effectiveness and also the facts about these systems. Sprinkler demonstration trailers can be purchased with funds from the Department of Homeland Security's Fire Prevention and Safety grant.
###