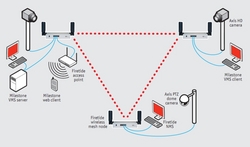 Los Gatos, CA (PRWEB) October 20, 2010
Firetide Inc., the leading provider of wireless infrastructure mesh networks, will demonstrate its MIMO (multiple input multiple output) infrastructure mesh technology as part of a wireless IP video surveillance demo during the IACP conference in Orlando, Florida, October 24 – 26, 2010. The solution addresses challenges in providing real-time, forensic-quality video for city center surveillance, hostage/barricade situations, special events security, monitoring crime-prone neighborhoods, emergency preparedness and homeland security.
Many of the nations' municipalities are using Firetide technology for wireless video surveillance including Orlando, the host city for this year's IACP conference. The Orlando Police Department has used Firetide's wireless mesh for several years, including during the 2008 Presidential election to provide wireless video surveillance of an Obama/Clinton campaign rally in Orlando that drew a record crowd of 60,000 people. The network provided an "extra set of eyes" to improve situational awareness and courtroom-quality video in case of any incidents.
The conference demo combines MIMO wireless infrastructure mesh from Firetide with high-definition network camera technology from Axis Communications and open-platform video management from Milestone Systems. Deployed in a matter of hours, the system is a real-world example of what public safety agencies can achieve in the field with the right combination of IP technologies, delivering evidence-grade video for officer safety, identification and investigation.
THE DEMO: The live demonstration will feature wireless capture, distribution and playback of high-resolution video over a wireless mesh network. Real-time video from Axis high-definition and megapixel cameras will be streamed over Firetide wireless infrastructure mesh network. The video will be captured and displayed using the open-platform Milestone video management system, including remote viewing via Wi-Fi enabled PDAs.
LOCATION: The demonstration will take place at IACP 2010 in Orlando, Florida from October 24 through October 26 on the Firetide booth 2825.
About Firetide
Firetide is the leading provider of wireless infrastructure mesh networks that enable concurrent video, voice, and data for municipal, public safety, and industrial applications. Firetide provides reliable high performance wireless infrastructure mesh and access solutions for video surveillance, Internet access, public safety networks and temporary networks wherever rapid deployment, mobility and ease of installation are required. http://www.firetide.com
Follow Firetide on Twitter and subscribe to our blog.
###