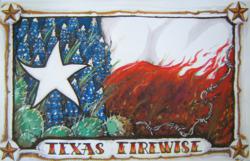 ". . .unfortunately, many of our rural neighbors lost everything. Some are still struggling to recover and rebuild," said Jim Lamar, President of the Barton Creek Lakeside Property Owners Assn.
Spicewood, TX (PRWEB) September 05, 2012
Barton Creek Lakeside, a 25-year-old golf community on the south shore of Lake Travis in Spicewood, TX, has earned official certification as a Firewise Communities/USA® site, one of only 47 such communities in drought-stricken Texas.
The development's celebration of its extensive, year-long fire mitigation efforts, however, was tempered this week by the solemn, frightening and vivid recollection of the 2011 Labor Day Weekend wildfire in Spicewood. About 40 homes were destroyed along with 6,500 acres of the Texas Hill Country just west of Austin.
"Thanks to the valiant efforts of local fire departments and volunteers and a 40-mph wind shift that turned the fire away from the very gates of Lakeside, we lost no homes or lives in our development," said Jim Lamar, president of the BCL Property Owners Assn. (BCL-POA) (http://www.bclakeside.org/)
"Our 250 homes and 225 available lots were spared, but, unfortunately, many of our rural neighbors lost everything. Some are still struggling to recover and rebuild," Lamar noted.
The Spicewood fire, as well as a damaging Central Texas wildfires in Pflugerville and Steiner Ranch, were overshadowed by the Bastrop (TX) wildfire that began that same afternoon (Sept. 3). That blaze eventually destroyed 1,645 homes, burned 34,068 acres and killed two persons. That fire is now regarded as the most catastrophic wildfire in Texas history.
For the 2011 statistics and current Texas Wildfire Situation, go to: http://texasforestservice.tamu.edu/main/article.aspx?id=12888.
"My most serious concern last year was the wind switching the fire line back into more heavily populated areas," said Chief Dean Lester of the Spicewood Volunteer Fire Dept. "The fire was 1½ miles wide and running at 20 miles per hour. On day three, it came within 50 feet of Lakeside property.
"Homeowners must prepare now for an evacuation, because unless you have a fireproof home – stone walls and a metal roof and combustibles more than 200 feet away – you will not have time in a wildfire to gather up your most valuable papers and possessions," Lester emphasized. "Keep all that in a convenient location for easy access and plan your exit route in advance."
Contributions . . . Cooperation . . .Certification
The National Fire Protection Association's (NFPA) Firewise Communities© program encourages solutions for wildfire safety by involving homeowners, community leaders, planners, developers, firefighters and others in the effort to protect people and property from wildfire risk, explained Patrick R. Allen of McGregor, TX. He is the Wildland Urban Interface Specialist and Firewise Communities Liaison for the Texas Forest Service, based at Texas A&M University.
"This well-conceived program is co-sponsored by the USDA Forest Service, the U.S. Department of the Interior, and the National Association of State Foresters," he noted. "In view of extreme weather patterns, high temperatures and lack of rain, I urge communities of every size, private or public, to look into this resource and to implement appropriate actions."
The BCL-POA mitigation team has had vacant lots mitigated to the guidelines and regularly mowed. Homeowners were requested to have 30-to-60-foot clear perimeters around their homes, to raise their tree canopies to at least 10 feet above ground, keep grasses below eight inches and remove cedar fuels and brush.
"We estimate 98% cooperation from homeowners and more than $200,000 in clean-up expenditures by the residents," Lamar said. "Every property was inspected, and even all our common areas were mitigated at an additional cost of $7,500."
James Walsh, VP-GM of the Barton Creek Resort & Spa™, commented: "The ground crews on our Palmer Lakeside golf course removed deadwood and marginal trees as well as excess brush in the canyon, ravine and creek areas.
"Not only is the entire community more attractive, I believe the cooperative efforts have increased the pride and security of residents and probably increased property values," he added.
"We toured Lakeside early on and made mitigation recommendations," said Ken Van Rens, Chief of the Pedernales Fire Dept. TCESD #8 in nearby Briarcliff, TX. "The Firewise program enhances community safety, and just as importantly, gives the fire fighters defensible space in which to safely work for fire control."
BCL donations to the Spicewood and Pedernales fire departments and EMS units exceed $250,000 since 1998, including more than $152,000 in recent years from the annual Lakeside-sponsored golf tournament.
"I've been with the department for 27 years, and the cooperation from Lakeside has always been excellent," added Van Rens, who retired this week. "Our departments have used the funds to upgrade equipment, purchase vehicles and provide training. P.F.D. has 22 full-time and six part-time firemen and staffs two of three stations 24/7 with nine large fire-fighting trucks and four command vehicles."
The nearby subdivisions of Rivercliff and Cypress Hills also are advancing mitigation and certification programs due to the 2011 wildfire and potential repeat of that disaster, he said.
Lakeside's Lamar, noting the continuing drought in the state, particularly the Texas Hill Country, urged homeowners, ranchers, private developments and communities of all sizes to seriously consider the Firewise programs to help prevent loss of lives and property in the future.
"It is a well-conceived program providing vital guidance. Community leaders and residents ignore its proven, sage advice at their own peril," he emphasized. "Sure, continued certification requires continuing maintenance and vigilance, but that is the price of security, fire safety and peace of mind."
FOR MORE INFORMATION or INTERVIEWS:
Tom Neslage, Lakeside Board Member & Fire Mitigation Team Leader, 830-693-0928
Preston F. Kirk, APR, Kirk Public Relations, Spicewood TX, 830-693-4447