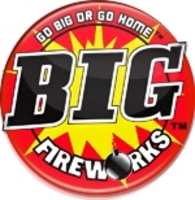 New site provides improved navigation, drag and drop shopping, new filter methods, image zoom, and improved video.
Lansing, MI (PRWEB) May 2, 2010
Big Fireworks has launched its new and improved website at http://www.BigFireworks.com. The dramatically new designed site embodies Big Fireworks vision and commitment for the consumer.
The new website offers:

improved navigation
drag and drop shopping
new filter categories
image zoom
improved video
The site's homepage welcomes visitors with bold new colors, a clean uncluttered design, and moving images with featured content. The new website will greatly improve the experience of website users as Big Fireworks moves ahead into new realms of digital service.
Improved Navigation
The overall layout of the website gives a fresh clean look that allows users the opportunity to not only search for products, but also view them in a quick and organized manner.
Drag and Drop Shopping
The new site is user and time friendly. The drag and drop shopping cart allows users to shop much faster then in previous years. The drag and drop works by allowing users to simply click on an item, drag and drop it on the shopping cart drop zone, approve and continue shopping.
New Filter Categories
The new filter option allows users to filter products by break, loudness, height, price, shots, ratings, sales, videos, and new products.
Image Zoom
The image section allows users to zoom on any part of the product. This option allows users to understand exactly what the product looks like.
Improved Video
The new website contains updated and high quality video of Big Fireworks products. New videos are being added daily. Very soon, users will be able to view a video of any product in the Big Fireworks catalog.
New Categories:

Green Fireworks
Professional Series
Loudest Fireworks
Filters available on the following category pages:

2" Finale Repeaters
200 Gram Repeaters
3" Finale Repeaters
500 Gram Repeaters
500 Gram Sprinklers
Big Fireworks
3366 Remy Drive
Lansing, MI 48906
Phone: 517-645-0200
FAX: 1-888-201-0235
Website Credits:
The new BigFireworks.com website was a one year long project, developed by Hexnet Interactive (David Franco) and Big Fireworks (Tom Norris).
###