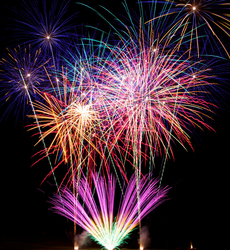 "We are pleased to welcome the Telstar Company into our family." Pyrotecnico President, Stephen Vitale.
New Castle, PA (PRWEB) January 3, 2011
New England states can look forward to years more of outstanding fireworks displays thanks to the recent acquisition of Jaffrey, NH's Telstar by New Castle, PA's Pyrotecnico.
Pyrotecnico will be continuing Telstar's business throughout the six New England states, operating via the existing key office in Jaffrey, NH, as well as the New York office in Auburn. The new operation will allow Pyrotecnico to energize the former Telstar's existing offerings in the region with their incredible range of services.
A family-owned company established in 1979 as Dominic C. Speeney & Sons Pyrotechnics, Telstar was the leading manufacturer of domestic pyrotechnics products in the United States. In 1987, Speeney was acquired by Telstar, but remained operated by the Speeney family. Now, Telstar brings their 30 years of family business to Pyrotecnico's family.
"We are pleased to welcome the Telstar Company into our family," said Pyrotecnico President Stephen Vitale. "It's a perfect match, as both companies are known for providing safe, professional, affordable state-of-the-art fireworks displays. And both companies, having been family-owned and run, exhibit an incredible sense of pride in workmanship."
Gene Speeney, who will continue to with Pyrotecnico as their New England Show Producer, commented that "Pyrotecnico is well known for their high quality, first-rate shows, just as Telstar has been. They appreciate our history in New England and New York, and I trust that they'll continue to deliver the spectacular service and shows we've always promised to our valued customers. In fact, I look forward to offering their full range of pyrotechnic products and services."
About Pyrotecnico:
Pyrotecnico currently has full service design and sales offices in New Castle, PA; Atlanta, GA; Dallas, TX; New Orleans, LA; Las Vegas, NV; Montgomery, AL; Philadelphia, PA; Vineland, NJ; Jaffrey, NH; Tampa, FL. This increasingly flexible network is available to clients every day of the year, and can plan, develop and execute any size show, in any venue using any combination of pyrotechnical products. Learn more about Pyrotecnico at
http://www.pyrotecnico.com.
###