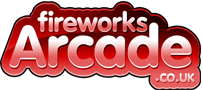 London (PRWEB) June 27, 2013
FireworksArcade has today launched its new website, creating a one-stop solution to help the customers procure everything they need for their firework events and parties.
Fireworks Arcade is one of the UK's leading suppliers of fireworks for events throughout the year. The wide range of pyrotechnics they stock can help to kick-start an event with a real bang. And, to help their customers even further, the firm have launched the revamped version of its website, which offers a range of captivating fireworks at affordable prices.
Fireworks Arcade offers both outdoor and indoor fireworks for weddings, birthdays, New Year and even Christmas parties. The website snot only stocks fireworks, but it also offers other party products to ensure that the event goes on when the fireworks are over.
The marketing manager of the firm was quoted as saying – "FireworksArcade is one of the very few retailers that offer everything you can think of when it comes to a firework display; from firework mines and fountains to shot cakes, rockets, sparklers and Catherine wheels."
Fireworks Arcade not only prides itself on its extensive product range, but also its quality service and top-notch customer care.
Talking about the revamped site in more detail, the company's marketing manager added – "Our newly launched website provides all of the firework products you will need for a successful party.Our aim is to project the usual warm greeting, exceptional service, and hottest deals that you would find in our London store onto our website for you to browse and order online."
About the Company
Fireworks Arcade is a reputed supplier of Chinese fireworks in the UK. It has been supplying high quality products, including fireworks and other party items for many years and is proud of the reasonable prices that it offers. The company is an approved online mail order firm, focusing on both wholesale trade and retail deals. Although they do not manufacture the products themselves, they will only ever stock and deliver the highest quality fireworks.
The newly-launched website offers a range of firework products, indoor party products, and much more. With the aim of offering the best products of firework, the firm aim to ensure that customer's requirements and needs are met for a reasonable price.
Log on to http://www.fireworksarcade.co.uk for more information.