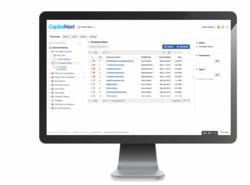 Firmex's new platform provides a data room that is user-friendly, yet detail-orientated
Toronto, Ontario (PRWEB) September 19, 2012
Leading virtual data room provider, Firmex, announces the general availability of its newly upgraded virtual data room solution – the biggest upgrade launched by the company to date.
Virtual data rooms are commonly used by corporate professionals to securely share large volumes of highly confidential documents relating to financial transactions, litigation, procurement and regulatory compliance.
Due to the complex and highly sensitive nature of these transactions, users have traditionally had to sacrifice ease of use for robust security protection.
Firmex`s latest product upgrade provides an enhanced user experience, better administration functionality and more security features, to deliver the most user-friendly and secure data room solution on the market.
Firmex's new user interface provides clear visibility into all folders and documents within a project from one single page, with fewer clicks required to access critical documents. Searchable comments and tags make it easy to source specific documents fast. And multi-browser support, together with full PC and Mac compatibility, gives users on-demand access to critical documents.
Firmex has also introduced powerful new security features for Microsoft Office documents, like digital shredding, screen capture blocking and dynamic watermarks, for even greater control over sensitive information.
This latest product upgrade is the result of valuable feedback from loyal Firmex users and hundreds of hours of dedicated product development.
"With over 200,000 users from investment banks, law firms, private equity groups and corporate development teams logging in to use Firmex, we knew that every design detail in this upgrade was critical," said Elizabeth Caley, Firmex Vice President of Product Management. "Our clients love the new upgrade, because it's largely been driven by their own feedback."
The response from Firmex users to the new changes has been extremely positive.
"Firmex's new platform provides a data room that is user-friendly, yet detail-oriented, allowing for the ultimate control of your confidential documents. As a heavy user, our firm has saved countless hours and paper by conducting due diligence digitally; an invaluable service that we are able to offer our clients. And with Firmex's 24/7 support, we are assured that our clients and users can get what they need, even at the eleventh hour," said Jessica Bird, Associate at Zepponi & Company.
The new upgrade is now available to all new and existing Firmex users. Visit our website to learn more about our new features.
About Firmex
Intuitive, affordable, pervasive – thousands of companies choose Firmex Virtual Data Room (VDR) solutions to securely share their highly confidential documents. Our secure, online data rooms are so easy to setup and use, customers are able to immediately control, share, collaborate and track the use of confidential documents. This smooth and efficient access to highly organized data is why companies trust Firmex to open 6,000 new virtual data rooms annually. Leaders in corporate and financial transactions, M&A, compliance, litigation, and procurement value Firmex's ease of use and outstanding support to profitably accelerate their online document sharing and collaboration projects.