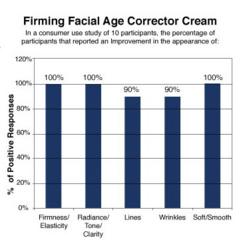 We are dedicated to applying the best in scientific cosmetic technologies to provide our customers with products they can rely on to keep their skin looking and feeling fantastic. - Dr. Adrienne Denese
New York, NY (PRWEB) January 22, 2013
Dr. Denese, the renowned creator of internationally recognized premium skincare products, has announced the results of its most recent study. The studies are designed to investigate the effectiveness of some of Dr. Denese's most popular products.
Dr. Denese's Firming Facial Age Corrector Cream is a unique night cream designed to give users all the benefits of a facial while they sleep. Firming Facial Age Corrector Cream contains a carefully formulated selection of ingredients, chosen and combined by experts.
Cosmetic skin scientists were given the task of producing a night cream that would reduce lines and wrinkles, and improve firmness, elasticity, radiance, tone, and clarity. Each an essential factor in ensuring that skin maintains a bright, vibrant, and youthful appearance.
The result was a night cream that contains the highly effective Actizone Firming Factor. Applied before sleeping, Firming Facial Age Corrector Cream works overnight to renew the skin with exfoliation and firming technologies, restoring it to a more youthful condition.
The clinical study selected a cohort of typical skin care product users, and asked them to report on the effectiveness of the products after continued use. In each case the results were unambiguous. The Firming Facial Age Corrector Cream sample reported overwhelmingly positive experiences, with a marked improvement in skin appearance and condition across each of the most important factors impacting appearance and youthfulness.
100% of participants recorded positive responses with regard to firmness, elasticity, radiance, tone, and clarity. Every member of the sample found that Firming Facial Age Corrector Cream produced a clearly visible positive impact on their skin's appearance. Furthermore, each of the participants reported that their skin became both softer and smoother. Nine out of ten of the test subjects also discovered a noticeable reduction in lines and wrinkles.
"We've always had the utmost confidence in the rigorous development process we apply to every one of our products", commented company founder, Dr. Adrienne Denese, "We are dedicated to applying the best in scientific cosmetic technologies to provide our customers with products they can rely on to keep their skin looking and feeling fantastic. The results of our most recent studies are exactly what we had hoped for and expected."
Each Dr. Denese product is created to complement the others. Combined, they provide a complete six phase skincare solution that works to combat all the factors that contribute to visible skin aging, including cleansing and toning; exfoliating and purifying; cellular performance stimulation; building lipid barriers; sealing and maintaining; and protecting and correcting.
###
About Dr. Denese Dr. Adrienne Denese completed her post-doctoral fellowship at Harvard University with a medical specialty in anti-aging medicine. Her company, SkinScience Labs, Inc., and its exclusive line of scientifically developed skin care products, has become one of the largest and fastest growing privately owned businesses in the anti-aging and skin treatment markets. SkinScience Labs, Inc. develops, markets and distributes premium professional skin care products under the highly successful and internationally recognized Dr. Denese® brand. To learn more about Dr. Denese or to purchase her skin care products please visit http://www.drdenese.com.