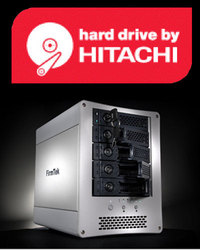 The superior performance, reliability, and large storage capacity of the Ultrastar A7K1000 hard drive makes is a perfect companion for FirmTek enclosures
San Francisco, Calif. (PRWEB) January 17, 2008
FirmTek, LLC, a pioneer and leader in Serial ATA (SATA) storage solutions, today announced that Hitachi Global Storage Technologies has selected FirmTek to participate in the "Hard Drive by Hitachi" Ingredient Brand Program. The "Hard Drive by Hitachi" logo will now be featured on the FirmTek SeriTek/5PM enclosure, which has been validated extensively with Hitachi one-terabyte (1TB) Serial ATA (SATA) Ultrastar® A7K1000 hard drives during the program qualification process.
Hitachi is proud to announce that they have successfully completed qualification testing for use with the FirmTek SeriTek/5PM storage enclosure. The new Ultrastar A7K1000 drive provides high capacity, low cost per gigabyte storage for lower duty cycle enterprise environments.
Configuring FirmTek enclosures with Hitachi Ultrastar drives provides a high quality, cost-effective solution for audio/video editing, photography, disk-to-disk backup or data warehousing. Macintosh and PC users can incorporate the new Ultrastar® A7K1000 hard drives into their FirmTek enclosure for high performance audio video applications or any other data-intensive environment where large capacities and high reliability are key requirements.
"More and more companies are delivering leading-edge storage solutions based on Hitachi technology," said Dean Amini, director, Enterprise Market and Strategy, Hitachi Global Storage Technologies. "The Ultrastar A7K1000 combines the best attributes of high-capacity SATA drives with the enhanced availability and reliability of enterprise class drives. Populating high-performance FirmTek enclosures with Hitachi's A7K1000 provides customers with an outstanding solution for lower duty cycle storage applications."
"The superior performance, reliability, and large storage capacity of the Ultrastar A7K1000 hard drive makes is a perfect companion for FirmTek enclosures," stated Chi Kim Stanford, VP of Business Development for FirmTek. "The Hitachi hard drives are specifically designed to provide high reliability in multi-drive environments which will allow our customers to build massive storage environments with confidence."
Hitachi Ultrastar A7K1000 Highlights

Up to 1TB of capacity
3 Gbps SATA for high performance and configuration flexibility
Targeted 1.2 million hours Mean Time Between Failure (MTBF)
Enhanced Rotational Vibration Safeguard (RVS) for robust performance in multi-drive environments
5-year warranty
FirmTek SeriTek/5PM Enclosure Highlights

Attractive anodized extruded aluminum design with professional appearance
Built-in port multiplier supports up to five 3.5" hard drives with a single cable
Front panel power switching and user-selectable three-speed fan
Easy to use hot-swap SATA II compliant tray based mounting system
Built-in server class 220W power supply
New expanded Heat Management system with Direct Backplane Design
About Hitachi Global Storage Technologies
Hitachi Global Storage Technologies develops advanced hard disk drives to store and preserve the world's valued data. Founded by the pioneers of hard drives, Hitachi GST enables users to fully engage in the digital lifestyle by providing high-value, high-capacity storage in formats suitable for the office, in the home or on the road. With vertically-integrated research, design and manufacturing capabilities, Hitachi GST delivers leadership technology and quality to its global customer-base.
With approximately 33,000 employees worldwide, Hitachi GST offers a comprehensive range of hard drive products for desktop computers, high-performance storage systems and servers, notebooks and consumer devices. For more information, please visit the company's website at http://www.hitachigst.com.
About Hitachi, Ltd.
Hitachi, Ltd., (NYSE: HIT/TSE: 6501), headquartered in Tokyo, Japan, is a leading global electronics company with approximately 384,000 employees worldwide. Fiscal 2006 (ended March 31, 2007) consolidated revenues totaled 10,247 billion yen ($86.8 billion). The company offers a wide range of systems, products and services in market sectors including information systems, electronic devices, power and industrial systems, consumer products, materials and financial services. For more information on Hitachi, please visit the company's website at http://www.hitachi.com.
About FirmTek, LLC
Headquartered in Silicon Valley and founded by former Apple engineers, FirmTek is a leading hardware and firmware research and development company focusing on storage technologies. The company takes pride in developing the most reliable and most compatible high performance enhancement solutions offered through FirmTek's OEM and worldwide distribution channels. For information on how FirmTek helps users deploy, and organizations develop, advanced interface solutions, visit FirmTek's website at http://www.firmtek.com , or email info @ firmtek.com.
SeriTek is a trademark of FirmTek, LLC. Other trademarks are the property of their respective owners. Hitachi GST trademarks are authorized for use in countries and jurisdictions in which Hitachi GST has the right to market the brands. Hitachi GST is not liable for third parties' unauthorized use of Hitachi GST trademarks.
# # #