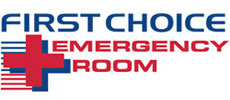 Cypress, Texas (PRWEB) January 11, 2012
First Choice Emergency Room, a leader and innovator in emergency medicine, celebrated the grand opening of its new 24-hour facility in Cypress on December 17-18 Local community leaders, school personnel, previous patients, physicians, and business owners attended the event, which included tours, a visit from Santa and Fever, the ER Dog. Dr. Gerald (Bart) Cobb, facility medical director with 29 years of experience, answered questions and explained the benefits of First Choice Emergency Room.
The facility, located at the corner of Barker Cypress Road and Tuckerton Road, provides the surrounding community with immediate access to experienced, board certified emergency room physicians, state-of-the-art imaging and diagnostic equipment, a COLA and CLIA certified lab, and superior customer service. First Choice Emergency Room provides the same level of care as a hospital emergency room, but without the overcrowding and long wait. The Barker Cypress facility is the seventh First Choice ER in the Houston metro area, with additional facilities located in Dallas/Fort Worth, and Austin, Texas.
First Choice Emergency Room, founded by Dr. Jack Novak in 2002, opened the first Houston site in The Woodlands over 6 years ago. With quality emergency care conveniently located in neighborhoods, ease of parking, and patient service second to none, the company quickly realized the need for additional facilities to meet the demands of the surrounding communities.
The Barker Cypress facility boasts the "Kid Cove," a special area designed to make a visit to the ER less intimidating for children. Each First Choice ER has dedicated pediatric rooms with whimsical murals of characters and animals. Residents of the Cypress area are invited to visit the Barker Cypress facility and meet the staff during the grand opening month of January.
For more information, visit First Choice Emergency Room at 9740 Barker Cypress Road, Suite 108, Cypress, TX, (281) 463-5200 or find them online at http://www.fcer.com/locations/houston-map/barker-cypress/.
About First Choice Emergency Room
First Choice Emergency Room is revolutionizing the delivery of emergency medical services for adult and pediatric emergencies, both major and minor. First Choice Emergency Room facilities are innovative, freestanding, fully equipped emergency rooms. All physicians are board certified, emergency physicians, and all FCER nurses are emergency trained. With seven locations in the Houston area, four in the Dallas/Fort Worth area and one in the Austin area, patients receive high-quality treatment without delay as commonly experienced in hospital ER's.
For more information, locations and hours, visit http://www.FCER.com or call toll-free 866-99-FIRST (34778).
Find them on Facebook at http://www.Facebook.com/FirstChoiceER or view their YouTube Channel at https://www.youtube.com/user/FirstChoiceER.
###