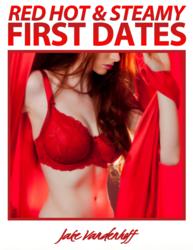 Pembroke, MA (PRWEB) September 30, 2012
"Most men realize that first dates are a real 'make it or break it' situation," says leading men's dating coach Jake Vandenhoff. "If a guy goofs up and ruins the first date with a woman, chances are he's not going to have another shot with her. I wrote my guide to first dates to help guys understand what to do on the first date to make sure everything runs smoothly, so that they can feel confident, relax and enjoy themselves."
Vandenhoff's Red Hot And Steamy First Dates, which is available free of charge to his website visitors explains the common first date mistakes most men make that destroy their chances of sparking a romantic connection. Vandenhoff also provides expert advice on planning a first date, first date conversation tips, and a method for successfully getting the first date kiss.
Vandenhoff explains that a lack of sound planning is a common cause of first dates going badly:
"It's still the man's job to plan the date, take the lead, and play the male role," says Vandenhoff. "The man needs to know where he is going, and he needs to lead the way, the same as it's been for the past 10,000 years. Really, it is this attempt to be politically correct and pretend that men and women are all the same that keeps guys from having success with women because it destroys the sexual polarity."
While some critics may contend that men should "just be themselves" on dates. Vandenhoff is quick to dismiss such ideas as ignorant cliches.
"If a guy is already good with women and is already having hot first dates, then yeah being himself is fine," says Vandenhoff. "But if you keep getting blown off and put into the 'friend zone' then you need to educate yourself about why this is happening, and what to do to make yourself more attractive to women. "
The final Chapter of Vandenhoff's guide, entitled "Closing" has gotten the greatest response for it's somewhat controversial subject matter. Here Vandenhoff offers frank advice on what to do at the end of the first date and how to take things to a physical level.
"There was no way I could make a guide to first dates and not talk about the juicy stuff," says Vandenhoff. "After years of coaching guys one-on-one, I know what they want to learn. Red Hot And Steamy First Dates is my gift to every guy out there who wants to turn a phone number into a red hot date!"
Red Hot And Steamy First Dates is available free on Jake Vandenhoff's website. Those interested can claim their copy here: http://jvlikes.com/redhot
Jake Vandenhoff is America's premiere dating coach for men offering dating advice and coaching for men from 18 to 80 on his website JakeVandenhoff.com. He is the author of Online Dating Playbook the best selling step-by-step guide to success with online dating.