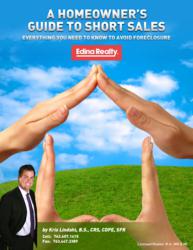 "This is why an experienced short sale agent is so important, because when a short sale agent works with a bank on a consistent basis, they will typically know what offers will be accepted, and which offers will not..."
Blaine, MN. (PRWEB) October 27, 2012
"If people have the option, there are 3 main reasons to opt for a short sale. The first reason is so people will avoid foreclosure, and the problems it can cause for their credit report. The second reason is so people can avoid the emotional distress that surrounds foreclosure. The third reason is to to help people pay off their mortgage, and be able to move on with their lives without the constant reminder that their house has been foreclosed," the First Franklin short sale agent Kris Lindahl explains.
"A short sale, is a sale of a house in which the lending company is willing to accept an offer that is less than what the homeowner owes on the mortgage. The homeowner is able to walk away from the mortgage without foreclosing their home, and the lender is able to salvage some of the money on their investment," Kris Lindahl the #1 Edina Realty short sale agent says.
"There are four main parties that are involved in the short sale that include the homeowner, the lending company, the professional short sale agent, and the potential buyer," Kris Lindahl explains, and continues, "The homeowner and the experienced short sale agent will work together. It is up to the short sale agent to speak to the lending company about negotiating a deal in which a short sale can occur, that is why it is best to find a short sale agent that has extensive experience with the short sale process, working with a variety of different banks, and getting the short sale closed in a timely manner. In general, the homeowner and the potential buyer are left out of the deal until the final decision of the lender has been made."
Kris Lindahl says, "Qualifying for a short sale depends on the current financial situation of the homeowner. If the homeowner can demonstrate that they are experiencing financial hardship, then they could qualify for a short sale. Many people who have been recently divorced or separated, lost a spouse, lost their job, took a pay cut, have succumb to a serious accident, illness, or have incurred a substantial amount of debt will qualify for a short sale. The homeowner will need to provide evidence such as termination letters, bank statements, medical bills and pay slips. The homeowner may also be able to qualify for a short sale even if they have not missed any mortgage payments if they have a compelling reason why their payments will stop in the future."
Call the experienced First Franklin Short Sale Agent Kris Lindahl at the new national short sale hotline (877) 371-1733 for short sale information. Visit the new national Short Sale Calculator website to determine short sale eligibility.