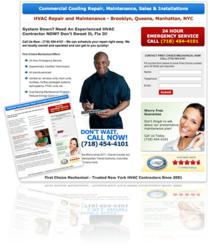 ...now [customers] can experience that same high quality of service on the website before they even meet us in person.
Jamaica, NY (PRWEB) January 31, 2013
Local New York HVAC contractors First Choice Mechanical have been serving institutional, industrial, municipal and commercial HVAC customers, as well as residential home owners and multi-family dwelling management firms, since 2001. In order to better serve their diverse customers, and to attract new ones, First Choice Mechanical decided to have a new website built that accurately demonstrates why they are a top-rated service provider.
"We had a lot of helpful information on our old site," said Jimmy Moyen, President & Owner of First Choice Mechanical, "but it just wasn't presented in the strongest way. Our residential customers recognize and understand what they need from us in a very different way from our commercial customers. So we wanted to make sure the website greets and serves each group so it makes sense to them. This is important to us because we feel that our website is our first chance to let customers know we understand them and are committed to giving them the best possible service. Starting with our website, we want them to see how we help them to get what they want done."
The solution is a content management system website, which allows pages, text, images, and links to be added, edited, or archived in real-time. It allows First Choice Mechanical to keep their site visitors informed about any new products on the market, new services they offer, or helpful articles about new ways of handling old heating, cooling or air quality concerns. Even the articles found on their old site were worked into the new design in a better way. Now customers can click on a related article right from the relevant service page. "With the new website," said Moyen, "we have the control we need to keep the information fresh and meaningful to our types of customers."
First Choice Mechanical worked with the Small Business Division of marketing firm AIMG to develop the new content management system website and create original content. With a focus on local marketing to the five boroughs of New York City and surrounding areas, web pages were optimized for local search.
"We are very happy with the new website," said Moyen. "It was great to work with AIMG because they understood what we were trying to accomplish and made sure we got there. I think the new organization and content makes the whole experience easier for customers. Part of our success over the years has to do with the quality of service we provide our customers. It's great that now they can experience that same high quality of service on the website before they even meet us in person."
Launched in December, 2012, the new website is available at http://www.FirstChoiceMech.com. For more information call 1-718-454-4101.
About First Choice Mechanical
Founded in 2001 by owner and President Jimmy Moyen, First Choice Mechanical is now a widely recognized and trusted HVAC contracting company serving home owners, multi-family residential complexes, commercial, municipal, industrial, and institutional clients throughout the New York City area, including Manhattan, the Bronx, Queens, Brooklyn, and Staten Island. As certified and authorized representatives of leading heating, air conditioning, and air quality product brands, First Choice Mechanical provides expert sales, installation, repair, emergency and preventative maintenance services. First Choice Mechanical is licensed, bonded and insured. For information visit http://www.FirstChoiceMech.com or call 1-718-454-4101.