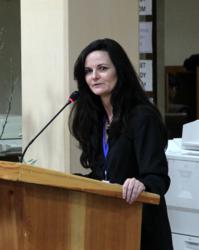 Upon assuming the post Dr. Dekle will become the first woman president of an Iraqi university.
(PRWEB) May 28, 2013
The Board of Trustees of the American University of Iraq, Sulaimani (AUIS) announced today that it has unanimously elected Dr. Dawn Dekle as the first woman President of AUIS.
"I am honored and privileged to be given the opportunity to lead this institution which has already done so much to strengthen higher education in Kurdistan and Iraq and with the potential to do even more," Dr. Dekle said upon accepting the position at the 900-student liberal arts college in its sixth year of operations.
Dr. Dekle, who is currently the Provost at the American University of Afghanistan (AUAF), will begin her responsibilities in September and will succeed Dr. Athanasios Moulakis, who announced his departure last September and will retain the title President emeritus. Upon assuming the post Dr. Dekle will become the first ever woman president of an Iraqi university.
"The Trustees could not be more pleased with the work of the search committee in identifying an extraordinary pool of candidates," said Dr. Barham Salih, Chairman of the AUIS Board of Trustees. "Dr. Dekle brings impressive academic credentials, a strong record of successful academic leadership, and an informed commitment to the ideals of an American-style liberal arts education. We look forward to her contributions to make AUIS the university of choice in Iraq."
Dr. Dekle earned her bachelor's degree with honors from Texas A&M University. She then went on to achieve a PhD in Experimental Psychology (Cognitive Science) from Dartmouth College and a JD from Stanford Law School. She has been Provost at the American University of Afghanistan since 2011. During her tenure she has implemented undergraduate law and graduate business programs and led the institution's US regional accreditation efforts.
As the first woman President of AUIS, Dr. Dekle will oversee efforts to: earn regional accreditation in the United States; build academic programs that continue to attract top students from across the country; and strengthen resource acquisition, allocation, and management, including the establishment of an endowment capable of supporting scholarships, construction, faculty development and co-curricular activities.
Dr. Dekle comes to AUIS with distinctive teaching, scholarship, and management experiences. As a pioneer member of the faculty at Singapore Management University (SMU), she served as the Head of Teaching Excellence, and held academic appointments in the School of Business and School of Economics and Social Sciences, where she also won two teaching awards. Prior to SMU, she has also held faculty appointments at The National University of Singapore, James Madison University, and Dartmouth College. Prior to moving to Afghanistan, Dr. Dekle served as Dean of the Undergraduate Program and Dean of the Center of Leadership for the S P Jain School of Management in Singapore. Dr. Dekle has held leadership positions outside of academia, such as a member of the Board for the Singapore Institute of International Affairs, and as a leadership specialist and Global Knowledge Manager at the consulting firm McKinsey & Co, where she helped launch the McKinsey Center for Asian Leadership.
As a scholar of leadership and management, Dr. Dekle has published in academic journals, presented at international conferences, given keynote addresses for the Young Presidents Organization (YPO), and served as an analyst for television and radio regarding President Obama and his strategies in Asia and the Middle East.
About AUIS
Founded in 2006, AUIS is Iraq's only private, non-profit university for public benefit. Academic programs, taught in the English language by international faculty members, are designed to meet or exceed standards set by regional accreditation organizations in the United States. It is the objective of the University to produce graduates of responsible character with the necessary knowledge and skills for professional and national leadership. Students develop strength in critical thinking, the ability to communicate well, a strong work ethic, good citizenship, and personal integrity. Broad-based education, rooted in the American liberal arts tradition, as well as skill development is achieved at the University through teaching excellence, quality scholarship, and caring student services.
The nearly 1,000 students at AUIS come from all over Iraq and represent the country's diverse ethnic and religious landscape. Kurds, Arabs, Turkmen, Sunni and Shi'a Muslims, Christians, Yezidis et al. populate the growing student body. At AUIS the devout and the agnostic interact freely, as do males and females.
In May, AUIS will host its second annual commencement exercises and issue undergraduate degrees in Business Administration, Information Technology, and International Studies and a graduate degree in Business Administration. The University also has undergraduate degree programs in General and Mechanical Engineering and English.
The University is proud to cooperate with key institutions in the United States to strengthen its academic and outreach programs. Notable among them is its partnership with the University of Colorado-Boulder to support its Engineering programs. Other key collaborations include the the Iraq Legal Education Initiative, a partnership with Stanford Law School to improve the quality of legal training in Iraq; and the Center for Expertise in Teaching and Learning, a partnership with the University of California, Los Angeles to provide free pedagogical resources to secondary and tertiary educators in Iraq.