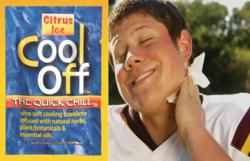 Sweating actually helps to reactivate the botanicals once the initial cooling effect wears down, and that doesn't seem to present a problem for hot Americans from coast to coast
Los Angeles, CA (PRWEB) September 16, 2012
"Fall is just around the corner, but summer temperatures are continuing to linger," reports Leticia Juarez in a KABC-TV Los Angeles article from September 14th entitled 'Southland simmering in September heat wave."
First Aid Global, LLC has carried 'Cool Off' Towelettes for 2 years, but this summer has set sales records for this product.
"We were convinced that 'Cool Off' was effective the first time we tried the product," says a First Aid Global spokesperson. "And with this year's record breaking temperatures, it was inevitable that our customer base would take off. We've had sales in almost every state, including Alaska and Hawaii, and sales are not yet slowing down. The product is leaving our warehouse as soon as it arrives."
'Cool Off' Towelettes are herbal-infused with 17 natural herbs, botanicals and essential oils. Wiping the towelette on arms, back, neck and back of knees can reduce body temperatures by 12 degrees for more than an hour.
"Sweating actually helps to reactivate the botanicals once the initial cooling effect wears down, and that doesn't seem to present a problem for hot Americans from coast to coast," the spokesman continues. "Athletes, golfers, sunbathers, outdoor workers and people stuck indoors without air-conditioning find 'Cool Off' extremely helpful. We've even found them popular among women suffering from hot flashes."
Another summer-related product in the First Aid Global warehouse is 'SunX' SPF30 Sunscreen Towelettes. Many parenting organizations promote their use on children because they're easy to apply without the mess or stress of lotions and the product stays on for hours, even after children emerge from swimming pools or the ocean.
'Cool Off' and 'SunX' Towelettes are available on the First Aid Global website or on their Amazon Merchant Account. First Aid Global is a Southern California company in business for over 15 years selling first aid and emergency preparedness kits and supplies.