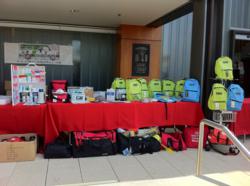 Preparedness is peace of mind.
Tarzana, CA (PRWEB) October 26, 2011
Thursday, October 20th, 2011 marked the latest ShakeOut LA events, where earthquake drills took place around the Southland in schools and businesses, as well as emergency responders everywhere. But for one preparedness company, the issue of preparedness doesn't start or end there.
First Aid Global, a First Aid, Safety and Emergency Preparedness company, takes an active role in coming into the business environment with their unique line of Earthquake Kits. They'll set up a huge display of emergency preparedness kits in the businesses' lunch room, conference room, even parking lot.
"We've had a great response to our line of earthquake preparedness kits," says Paul, First Aid Global's warehouse manager and art director. "Interest in preparedness has grown rapidly this year, with earthquake, fire, tornado and hurricane disasters cropping up all over the country."
Business organizers agree that they can only go so far in the storage of food, water and first aid supplies for their employees, so they've become very receptive to having a preparedness vendor come to their offices and sell directly to their company's families.
First Aid Global has a long list of events they've participated in this year alone: The Los Angeles Fireman's Fund Chili Cook-off & Fundraiser; Century City Chamber of Commerce Safety Fair; the MGM Tower Emergency Fair; the Northrop Grumman Wellness Festival; the Hyatt Regency Century Plaza; the Long Beach Bike Festival; the Miller Children's Hospital Fundraiser; Harbor Freight Awareness Fair; Beverly Hills Country Club Health Fair; Hawthorne Health Fair; LA Fireman's Blood Drive; Westwood Neighborhood Council Preparedness Expo; the Aware Products and the Data Direct Health & Wellness Expos; the San Gabriel Unified School District Health Expo; and the Planned Parenthood's Shop for Choice function, to name a few.
"It's been a busy year for us", Paul continues, "and with the help of the preparedness fairs, we expect next year to top it."
About First Aid Global:
A full-service First Aid, Safety and Emergency Preparedness company in Tarzana, CA that has been in business 15 years restocking First Aid Cabinets, Safety Gear and Food Service Gloves and servicing Eye Wash Stations as well as providing CPR and AED Training. Their line of Earthquake Preparedness Kits have expanded to include customers in all 50 states, including disaster preparedness for tornados, hurricanes, fire and smoke escape, and emergency blackouts or power failures on their new website http://www.PowerSurvival.com. For more information, vist their wholesale website at FirstAidGlobalWholesale.com or call them toll free at 866-305-1753.
###