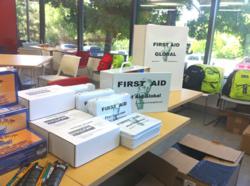 We jumped at the chance to bring our brand of products to the Expo.
Tarzana, CA (PRWEB) December 20, 2011
Aware Products, Inc., a Chatsworth California company that specializes in the manufacture of spa products for hair, skin and bath, held a Health and Lifestyle Expo in October for their 110 employees featuring many small local health companies and coordinated by Health Dimensions.
Eduardo Galvan, head of sales for First Aid Global spoke about the experience. "We were contacted by Health Dimensions just a few days before the event, and while it was short notice, we jumped at the chance to bring our brand of products to the Expo."
"It's one thing to get exposure through advertising and internet promotions, but it's always a pleasure to meet the key people and their company's employees face-to-face," he continues. "Within days, First Aid Global had established itself as Aware Products' First Aid and Safety Vendor as well as the prime contractor for servicing Eye Wash Stations."
"Our line of Emergency Preparedness Kits and Solar-Powered charging devices initially caught their attention, but we went on to fulfill their other needs as well. We look forward to many more Health Expos through this next year."
First Aid Global is a full-service First Aid, Safety and Emergency Preparedness company in Tarzana, CA that has been in business 15 years restocking First Aid Cabinets, Safety Gear and Food Service Gloves and servicing Eye Wash Stations as well as providing CPR and AED Training. Their line of Earthquake Preparedness Kits have expanded to include customers in all 50 states, including disaster preparedness for tornadoes, hurricanes, fire and smoke escape, and emergency blackouts or power failures on their new website http://www.PowerSurvival.com. To order online, visit their wholesale website at FirstAidGlobalWholesale.com or call them toll free at 866-305-1753. To see more press on First Aid Global, visit their News Articles page.
###