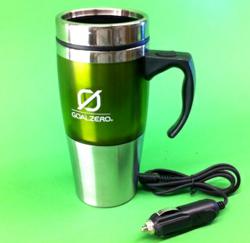 I just hate a cold cup of coffee!
Tarzana, CA (PRWEB) November 23, 2011
There's no shortage of great gift offerings this season, as advertisements come rolling into our spam boxes and our minds begin to swirl with ideas for the holidays. Staples, Sony, Sears, Amazon and Overstock seem to dominate the day, but there's still room for this little-known company.
"There's nothing quite as unique as a gift from First Aid Global Wholesale," says Eddie Galvan, CEO of First Aid Global. "We've chosen distinctive items from our Solar Power and Emergency Preparedness Catalogs, and we're offering them at a huge discount."
From Goal Zero, an adventure company out of Utah, comes the 'Steamer' 12-volt Beverage Heater that plugs into your car's cigarette lighter. There's the 'Lighthouse' USB Power Hub Crank Lantern, that can recharge your phones and other devices and can be recharged itself with just a few cranks of the handle. Also in the lighting department is the 'Torch' Solar and Crank Light, an LED Flashlight and powerful Work-Light that can be recharged by the Sun or by Cranking. And then comes the 'Travel Power Kit' which includes the Rock-Out Stereo Speakers, Nomad 7 Solar Panel and the Guide 10 USB Battery Pack. It can recharge your iPhone, iPad and iPod, as well as any electronic device that uses a USB or cigarette lighter power source - using nothing but the Sun.
First Aid Global's [ 'Black Friday Sale' also has items for shoppers looking for a more considerate gift of preparedness and safety: the pocket-sized 'Smoke Escape Hood' for fire evacuation; the 'Preparedness Survival Backpack' with 3 days food and water; the 'Emergency Pet Kit' for dogs or cats; and the 'Auto Emergency Kit', the perfect roadside companion for safe travel.
"We have customers who love the Travel Power Kit for its compact and useful design," Eddie continues. "They take it on the plane when they travel to Europe because you never know if your devices match up with European power sources. But my favorite is The Steamer Beverage Heater. I just hate a cold cup of coffee!"
First Aid Global is a full-service First Aid, Safety and Emergency Preparedness company in Tarzana, CA that has been in business 15 years restocking First Aid Cabinets, Safety Gear and Food Service Gloves and servicing Eye Wash Stations as well as providing CPR and AED Training. Their line of Earthquake Preparedness Kits have expanded to include customers in all 50 states, including disaster preparedness for tornados, hurricanes, fire and smoke escape, and emergency blackouts or power failures on their new website http://www.PowerSurvival.com. For more information, visit their wholesale website at FirstAidGlobalWholesale.com or call them toll free at 866-305-1753.
###