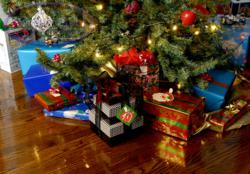 Holiday shopping doesn't have to be boring, and nor does your husband's workshop.
Tarzana, CA (PRWEB) December 07, 2011
FirstAidGlobalWholesale is helping shoppers find that unique gift idea to fill the space under the Christmas Tree. The company's latest video begins with, "Holiday shopping doesn't have to be boring, and nor does your husband's workshop. Buy him a First Aid Cabinet, Ear Muffs, Back Support, or a pair of Inspector Safety Glasses with dual LED Lights."
The company's General Manager stated, "We've created a new website called PowerSurvival.com where we spotlight our clean, green energy products, and that means fun with a Solar-Powered Travel Kit for recharging wireless devices on the go while you listen to music on the Rock-Out Stereo Speakers."
Mr. West added, "The Adventure Power Kit will make a happy camper out of any outdoorsman with 120 watts of solar battery power for energizing your lights, wireless devices and even laptop, all in a light-weight package. And when blackouts occur, the Home Power Kit can power your home, office or apartment with 400 watts of solar AC/DC rechargeable battery power during an emergency power failure."
Other low-priced items from Goal Zero include the Steamer 12-volt Beverage Heater for the car; the Torch Solar Crank Light, a powerful LED Flashlight/Worklight that charges by AC, DC, solar or a turn of the crank; and the Lighthouse USB Power Hub, a crank lantern with a USB charging port for wireless devices.
FirstAidGlobalWholesale has a wide range of Survival Kits to choose from. Each package provides first aid, long shelf life food and water, lighting and radios, blankets and other safety necessities packed into bags of varying sizes for auto, home or office. Learn more on their Survival & Preparedness Pages.
Visit FirstAidGlobalWholesale.com online today and put the fun back into holiday shopping.
First Aid Global is a full-service First Aid, Safety and Emergency Preparedness company in Tarzana, CA that has been in business 15 years restocking First Aid Cabinets, Safety Gear and Food Service Gloves and servicing Eye Wash Stations as well as providing CPR and AED Training. Their line of Earthquake Preparedness Kits have expanded to include customers in all 50 states, including disaster preparedness for tornados, hurricanes, fire and smoke escape, and emergency blackouts or power failures on their new website http://www.PowerSurvival.com. For more information, visit their wholesale website at FirstAidGlobalWholesale.com or call them toll free at 866-305-1753.
###