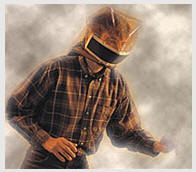 It took less than 30 seconds for a small flame to jump to the curtains and turn into a major fire.
Los Angeles, CA (PRWEB) February 14, 2012
According to John Wiseman, author of "The SAS Urban Survival Handbook", "Almost 90 percent of fires in the home can be traced to one of ten causes, including cookers, portable heaters, cigarettes, matches, electrical wiring, electric blankets, tiki torches or open flame lamps, televisions, chimneys and candles."
First Aid Global's Safety Expert, Sonny West states that, "Our HK Smoke Escape Hood has helped in the evacuation of personnel in many industries from Oil Refineries and Ocean Platforms from Texas and Louisiana, to Ocean Shipping Companies from Vietnam to the Caspian Sea. Now, it's time to bring it home to average citizens, because, of the approximately 10,000 people who die each year in house and high-rise fires, 80% are simply overcome by the toxic smoke, and not the fire itself."
Sonny, herself, survived a house fire when she was young. "It took less than 30 seconds for a small flame to jump to the curtains and turn into a major fire," she claims. "It only takes minutes for a house to fill with thick black smoke and become engulfed in flames. I recommend at least one regularly checked smoke alarm be installed and retain one Pocket Smoke Mask per member of your family in case you need to escape through smoke when fire occurs."
"We're the exclusive US distributor of the HK Smoke Escape Hood," she continues. "It's reliable yet compact, withstands high temperatures, provides a minimum of 20 minutes of escape time, and fits children as well as adults."
Fire Prevention Week begins in October, but Sonny is pushing Fire Safety all year around. "Our mobile sales reps regularly recommend planning and practicing your own fire escape plan," she says, "especially when children or the disabled need assistance in the evacuation process. A good place to start is with your own HK Smoke Escape Hood."
First Aid Global is a full-service First Aid, Safety and Emergency Preparedness company in Tarzana, CA that has been in business 15 years restocking First Aid Cabinets, Safety Gear and Food Service Gloves and servicing Eye Wash Stations as well as providing CPR and AED Training. Their line of Earthquake Preparedness Kits have expanded to include customers in all 50 states, including disaster preparedness for tornados, hurricanes, fire and smoke escape, and emergency blackouts or power failures on their new website http://www.PowerSurvival.com. For more information, visit their wholesale website at FirstAidGlobalWholesale.com or call them toll free at 866-305-1753. Visit them on facebook for regular updates.
# # #