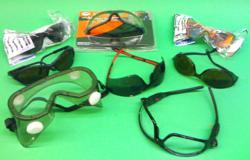 We wanted to make eye-wear protection available to everyone, including the home workshop.
Los Angeles, CA (PRWEB) January 25, 2012
"More than 700,000 Americans injure their eyes at work each year, yet most of all workplace eye injuries can be avoided by using proper safety eyewear," says safety manager George Galvan of First Aid Global, a Los Angeles company. "We emphasize eye-wear protection to all our local customers whether they are factories, manufacturers, restaurants, warehouses, hotels and more. We also install and maintain dozens of eye-flood stations."
"Eye-wash Stations are a necessary safety precaution as well as mandated by law wherever chemicals are present or dust and flying debris are the norm," George continues. "Workers sometimes neglect wearing safety goggles, glasses, face shields and full-face respirators, and that's when the eye-wash stations come into play."
The company has placed most of their eye protection and eye wash stations on their website FirstAidGlobalWholesale.com, making it easy to order the latest eyewear online at the lowest prices in the industry.
"We wanted to make eye-wear protection available to everyone, including the home workshop," the spokesman added. "It's a well-known fact that many eye injuries occur in the home, because that's where you'd least expect it happening."
First Aid Global carries the new LED Inspector Glasses with powerful, ultra-bright built-in duo LED lights. Switch them on to light the work area without having to hold a flashlight. The high-impact polycarbonate lenses are scratch-proof, have full UV protection, an anti-fog coating and include batteries. Auto mechanics can see down or up into an engine without worrying about falling particles, and electricians can light their electrical boxes. They're also beneficial to campers and readers.
First Aid Global is a full-service First Aid, Safety and Emergency Preparedness company in Tarzana, CA that has been in business 15 years restocking First Aid Cabinets, Safety Gear and Food Service Gloves and servicing Eye Wash Stations as well as providing CPR and AED Training. Their line of Earthquake Preparedness Kits have expanded to include customers in all 50 states, including disaster preparedness for tornados, hurricanes, fire and smoke escape, and emergency blackouts or power failures on their new website http://www.PowerSurvival.com. For more information, visit their wholesale website at FirstAidGlobalWholesale.com or call them toll free at 866-305-1753. To see more press releases for First Aid Global, visit their News Articles page.
###