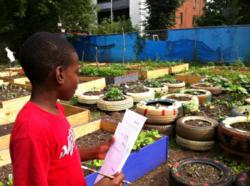 We can provide need-based stipends for our program participants so 15 young people can experience a life-changing summer of change-making and personal growth
Hartford, CT (PRWEB) March 30, 2012
Health Justice CT -- an innovative movement designed to use social media as the foundation for raising awareness on the issue of racial and ethnic disparities in Connecticut -- today announced The Summer of Solutions Hartford a project of Grand Aspirations as the winner of the first annual Health Justice CT Challenge, an new competition for individuals and organizations to creatively share their ideas and program proposals to address health inequities in Connecticut.
The project aims to address the food desert issue in Frog Hollow, a Hartford, Connecticut neighborhood, where 71% of residents are of Hispanic descent. The project is designed to engage residents in urban farming and to create a community garden that will provide residents access to fresh fruit and vegetables. To view program proposal video, please visit: youtu.be/IIkiokeUDFo.
"We have been delighted with the response to this challenge. All of the projects were inspiring and creatively proposed to address the state's most pressing health issues," said Heang Tan, Health Justice CT project manager. "This challenge provided an opportunity for people to share their ideas, stories and solutions with us. We are looking forward to seeing this partnership with the community evolve."
All proposals were assessed against a range of criteria including innovativeness, capacity to implement, and the ability to convey an effective video message addressing four questions. Five finalists were chosen by a group of judges that included local and national health experts. The public then had two weeks to vote for their favorite project idea.
"The Health Justice CT Challenge called for ideas from the community, and enabled the general public to learn about the important work of these organizations," said Aldon Hynes, Health Justice CT advisory board member and Challenge judge. "All finalists were winners, and I am pleased that the public had a chance to weigh in on who would win the $10,000 prize money."
"I am so excited for the work we get to do this summer. With this $10,000 we will be able to expand el Jardín de Zion Street by building 50 new raised beds. We can provide need-based stipends for our program participants so 15 young people can experience a life-changing summer of change-making and personal growth," said Jennifer Roach, Summer Solutions Hartford Program Leader.
About Health Justice CT:
Health Justice CT is an initiative designed to use social media as the foundation for creating a movement of Connecticut residents dedicated to working together to raise awareness about the issue of racial and ethnic disparities, find innovative solutions, and ultimately achieve health justice for everyone in Connecticut. The project is funded by the Connecticut Health Foundation (CT Health) and is being managed by the foundation's grantee, the Society for New Communications Research (sncr.org). To join the conversation, find us on Facebook (facebook.com/healthjusticect) and Twitter (twitter.com/healthjusticect)