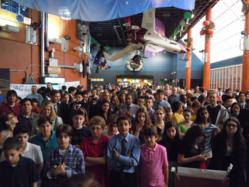 Rockville Centre, New York (PRWEB) June 22, 2013
The Center for Science Teaching and Learning (CSTL) and Nassau County hosted the first ever county-wide science fair in New York State. The First Annual Nassau County Science and Engineering Fair was open to all high school and middle school students throughout Nassau County, and was a venue for them to network and showcase projects they had done for class or other competitions. Held at the Cradle of Aviation in Garden City, the event was surrounded by an atmosphere of innovation appropriate for the event. With nearly 400 students from over 30 schools filling the exhibit halls, the event was an incredible display of the talents of Nassau County students.
Over 50 professionals with expertise in various scientific fields volunteered their time to serve as judges for the competition. Students could participate individually, or as a team. Projects were categorized by topic and age (separating high school and middle school) and monetary prizes were awarded to students who placed first in their category, as well as first, second, and third place for each age group. The winners of the First Annual Nassau County Science and Engineering Fair were:
High School
Overall Winners:
1st Place - Engineering – Matthew Chun, Jericho
2nd Place (tie) - Social Science – Ramya Kumar and Tooba Alwani, Great Neck South
– Hebah Hassan, Wheatley School
3rd Place - Computers/Math – Arjun Kapoor, Wheatley School
Category Winners:
Botany – Bhavana Ragipani, Jericho
Environmental Science – Shilpa Mathew and Jennalynn Phillips, Syosset
General Biology – Navya Simon and Cassie Wang, Great Neck South
Medicine – Anum Mitha, Wheatley School
Molecular Biology – Jess Shuman, JFK Bellmore
Physics – Lillian Huang and James Haber, Manhasset
Zoology – Arundhati Paul, Syosset
Middle School
Overall Winners:
1st Place - Environmental Science – Davie Reppucci and Andrew Berke, Manhasset
2nd Place - Chemistry – Julia Brandenstein, Plainview-Old Bethpage
3rd Place - Human Behavior – Matt Rosenbaum, Oceanside
Category Winners:
Biology – Katrina Almodoro and Sabrina Haertig, Oceanside
Engineering – Anton deLesseps, Peter Moachiarulo, Deke Kemper,
Roaiz Azas, and Julian Perno, The Green Vale School
Physics – George Theodosopoulos, Manhasset
The Center for Science Teaching and Learning (CSTL) is a not-for-profit organization with a mission of encouraging science learning and literacy. CSTL develops programs for people of all ages and utilizes inquiry-based learning as its foundation for program development. This year marks the first for which CSTL is serving as the administrator of the Nassau County Science and Engineering Fair.