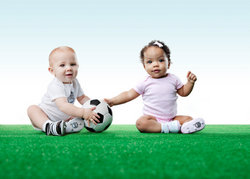 Seattle, WA (PRWEB) March 29, 2011
Introducing "First Cleats"
This unique baby gift idea was born in early 2010 by a mother/daughter team from Seattle, Washington after countless hours of watching three wonderful budding athletes (their children/grandchildren) run up, down and around soccer and baseball fields. Their commitment and dedication to youth athletics plus countless hours of support on those cold, rainy Northwest days inspired the idea – and "First Cleats" was born.
The name "First Cleats" is being trademarked and the design is patent pending. "First Cleats" is targeting the infant boutique and gift shop market, as well as athletic supply, professional and collegiate team stores.
"First Cleats" are available for retail and wholesale purchase @ http://www.firstcleats.com
First Cleats™ is the brainchild of Karrie Nesbitt and Diana Ultican, a mother-daughter business team with a vision of creating innovative sporty, fun and cute products for babies zero to six months with safety and comfort as their main concern.
###