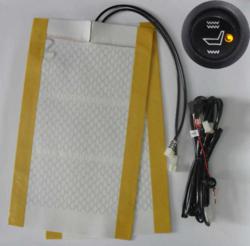 Included in each Seat Heater Kit:
(1)2 heater elements (4 different sizes available)
(2) 1 round dual temp hi/low/off switch
(3) 1 wiring harness
(4) All necessary fuses, thermostats, and relays
Shaoxing, Zhejiang, China (PRWEB) November 14, 2012
One of the Company Representatives of Firsten Automotive revealed about the company's decision of offering their products to the Chinese market, "We have perceived the demand for genuine Automotive Seat Heaters in the Chinese Market and also the consumer's interest and willingness in buying good quality car seat heating products. The awareness of car seat heating products is growing due to their several health benefits and the consumer awareness is inspiring us to extend our products to various parts of the world. By extending our product-line to Car customers in China, we intend to provide unparalleled comfort and pleasant experience to the car passengers as well as the drivers."
Firsten Automotive is working to extend their car seat heater products to various car models and planning to reach other geographical areas after China. The company is expecting an encouraging result in China and after Hyundai/Toyota/Honda they are seeking possibilities of tying up with other car manufacturers that have a wide market presence in China. Their car heating systems can be installed across various vehicle platforms, and after Hyundai/Toyota/Honda, they are expecting a natural demand for their car seat heating systems by other car manufacturers too.
Firsten Automotive maintains that their Automotive Seat Heaters deliver excellent results with automatically controlled seat heating systems that offer a desired warmth and comfort to the car occupants. For maintaining a warmer indoor environment inside a car, their Heated Seats are the viable as well as an economical option. Moreover, their systems are minute in size and easy to install. According to Firsten Automotive, ambient indoor air inside the car is an important attribute to maintain a healthy breathing system for the car occupants and anybody willing to make an online enquiry for their car seat heaters can visit their website http://www.firstenheating.com.
About Firsten Automotive:
Website: http://www.firstenheating.com
Firsten Automotive Electronics Co. Ltd is a high-tech enterprise which is specialized in development, production and marketing of heated products. The main products of the company are Heated seats, Car Seat Heater, Heated Gloves, Electric Blankets, Heated Cat and Dog Beds, Mats and Pads, Ice and Snow Traction Cleats, Battery Heated Clothing, Heated Motorcycle Gear, Hotronic Foot Warmers, Heat Therapy and Little Hotties Warmers, etc. Their heated products are popular worldwide and are exported several countries in Europe, the Americas, Asia etc.
Contact: Firsten Automotive
Should you have any question, or want to know more about their Automotive Seat Heaters, you can contact them at:
Tel: 0086-575-85525378
Fax: 0086-575-85255356
E-mail: info (at) firstenheating (dot) com