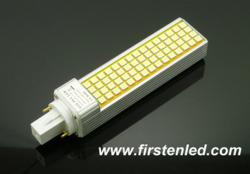 G24 LED Lamp 11W
1.CE,ROHS Ceritification
2.Long life span,high efficency
3.G24 LED Lamp base Could be rotatable
Shaoxing, Zhejiang, China (PRWEB) November 12, 2012
FirstenLED introduces new LED downlight range that is focused on providing improved energy efficiency that most families today try to achieve sincerely. These LED lights have varied applications at home and also provide a customer with more design and decoration choices.
Moreover, their LED spotlight and light bulbs are ergonomically designed to suitably fit in all types of lighting fixtures available in the market today. A LED bulb can dramatically reduce the consumption of energy and this is the reason why its use is gaining popularity among the worldwide consumers. Keeping in mind their consumer's needs, FirstenLED has introduced LED bulbs that can fit into different types of fixtures that global consumers use in their homes.
According to the COO of the company, "With our new LED light bulbs and spotlights, we intend to offer a complete lighting solution to our worldwide customers, so that they won't have to look for other options when it comes to residential lighting. At the same time, our lighting solutions are affordable and the energy cost-savings that you will enjoy will be an additional benefit."
FirstenLED not only endeavors to facilitate the complete range of lighting solutions for the residential properties but they have a large selection of LED spotlight and downlight applications for commercial setups as well. All their solutions are environmentally friendly and energy efficient. A property owner can use the FirstenLED lighting products to help maintain sustainable energy consumption at their premises and reduce the over-consumption and wastage of energy. By aligning an efficient energy consumption pattern, the company intends to bring the long-term benefits of energy savings as well help preserve the environment.
If you too want to incorporate sustainable energy consumption feature in your home, office, shop or any built space, you can check their wide variety of LED downlight and spotlight solutions on their website http://www.firstenled.com.
About FirstenLED:
Website: http://www.firstenled.com/
FirstenLED is a high-tech enterprise which is specialized in development, production and marketing of a large range of indoor and outdoor LED lighting products. Their LED products are popular worldwide and are exported to many countries in Europe, the Americas, and Asia etc. They have already attained EU Security Committee's CE, Rosh and LVD Certification. They believe in prompt delivery to please their global customers with their quality products and amazing services.