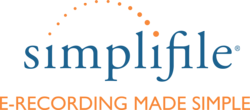 We're thrilled for Kent County to be the first to e-record a document in the state of Delaware. It has been a pleasure to work with Simplifile, and it's exciting that we've made history."
DOVER, Del. (PRWEB) May 24, 2013
Delaware recorded its first electronic document through Simplifile, the nation's largest and fastest-growing e-recording service. The inaugural document recording, an electronic loan modification agreement, took place at the Kent County recorder of deeds office in Dover, Del.
"We're thrilled for Kent County to be the first to e-record a document in the state of Delaware," said Holly Malone, Deputy Recorder of Deeds in Kent County. "It has been a pleasure to work with Simplifile, and it's exciting that we've made history."
Simplifile's e-recording service enables document submitters such as title companies, banks, and attorneys to quickly scan, upload and submit electronic versions of original documents to the county where they are reviewed, stamped, recorded and returned back to the submitter via the Internet.
"This new electronic delivery system will provide a more efficient and effective means to deliver documents for recordation," said Kent County Recorder of Deeds Betty Lou McKenna, a member of the Delaware Electronic Recording Commission.
With the availability of e-recording, document submitters will also have a much faster and more convenient recording option that also helps to reduce paper waste, mail costs, checks, fuel, and time spent traveling to and from counties to record documents.
"Kent County is committed to constituent service, and this is another way for the recorder of deeds office to be proactive and support our industry," said Malone. "In fact, many of our customers are already customers of Simplifile, so this will be an easy transition for them. Instead of having to overnight packages or wait for us to mail things back to them, their documents can be recorded in minutes."
With the addition of Delaware, 41 states have opened their doors to e-recording with Simplifile.
"It's been a privilege to work with the Kent County Recorder of Deeds office, and we share their excitement with being the first to e-record in the state of Delaware," said Paul Clifford, president of Simplifile. "We remain driven to lead e-recording expansion efforts nationwide and to provide our customers with an incomparable service that expedites and simplifies the recording process."
Kent County is scheduled to open e-recording to the general public on June 6, 2013.
Simplifile provides free training and 24/7 customer support. For more information about e-recording call 800-460-5657 or visit simplifile.com.
About Simplifile
Simplifile is the nation's largest and fastest-growing e-recording service. Simplifile supports thousands of e-recording customers including title companies, banks, attorneys, lien filers, and other organizations that create and submit documents to over 900 local, state, and federal government jurisdictions. Simplifile's electronic document services save time and expenses associated with traditional document submission methods. Simplifile is focused on building the industry's largest and easiest-to-use e-recording service for organizations of all shapes and sizes. More information about Simplifile may be found at simplifile.com or by calling 800-460-5657.
"Simplifile" is a registered service mark of Simplifile, LC.
# # #