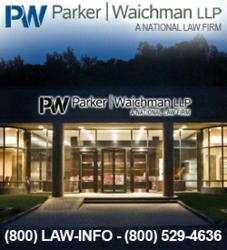 "These findings help support what many of us in the 9/11 community have already suspected: toxic fumes from the World Trade Center site caused cancer," said Matthew J. McCauley, Senior Litigation Counsel at Parker Waichman LLP and first responder
New York, New York (PRWEB) April 24, 2013
Parker Waichman LLP, a national law firm dedicated to protecting the rights of first responders who suffered cancer and other illness related to the tragic events of 9/11, is commenting on a new study conducted by Mount Sinai Hospital's World Trade Center Health Program. The study, which was published online on April 23rd in the medical journal Environmental Health Perspectives*, found that cancer among 9/11 first responders is 15 percent higher than it is for the general population.
Research findings were based on data obtained from 20,984 participants between 2001 and 2008. There were a total of 575 cases of cancer among the first responders, compared to the 499 cases expected among a comparable sample size of the general population. Thyroid, prostate and blood cancers such as leukemia and lymphoma accounted for most of the increased risk. Dr. Jacqueline Moline, one of the authors of the study, told the New York Daily News** that "[j]ust seven years after the attack, our study has shown an increase in cancer even at this early stage." Dr. Moline also stated that cancers related to the toxic substances that were released on 9/11 take many years to become evident, and "[t]he fact that we are seeing early increases in many types of cancers makes it all the more critical for us to be vigilant in our medical surveillance of anyone who had WTC exposure and to provide treatment for them if necessary."
"These findings help support what many of us in the 9/11 community have already suspected: toxic fumes from the World Trade Center site caused cancer," said Matthew J. McCauley, Senior Litigation Counsel at Parker Waichman LLP and first responder. "Hopefully, this research will help 9/11 rescue workers get broader coverage under the Zadroga Act." Mr. McCauley has worked closely with the FealGood Foundation, which honored him as "Advocate of the Year" for his work on behalf of 9/11 first responders.
The FealGood Foundation is an advocacy group for 9/11 rescue workers; it is led by John Feal, who lost part of his foot during the World Trade Center attacks. In response to the research findings, the group told Parker Waichman LLP and other supporters: "This report continues to prove what we in the 9/11 Community have known for many years; the various toxins inhaled and ingested at the World Trade Center Site have caused cancer. The unfortunate reality, as set forth in the report, is that these cancers are occurring earlier than experts had previously predicted." The FealGood Foundation also encouraged first responders to enroll in a WTC Health Program if they have not already done so; Parker Waichman LLP echoes these sentiments.
Feal told the Daily News that prostate cancer is one of the illnesses that needs to be covered under the Zadroga Act. The disease was not one of the 50 cancers added to the Zadroga Act last year by the National Institute for Occupational Safety and Health (NIOSH). "It needs to be on the list, like yesterday. I know more people with prostate cancer than any other cancer in the 9/11 community," Feal said to Daily News.
*http://ehp.niehs.nih.gov/1205894/
**http://www.nydailynews.com/new-york/9-11-responders-higher-cancer-rate-study-article-1.1324613
If you or a loved one are eligible for compensation under the Zadroga Act, and would like assistance with your claim, please visit Parker Waichman's Zadroga Act claims page at yourlawyer.com or call 1-800-LAW-INFO (1-800-529-4636).
Contact:
Parker Waichman LLP
Gary Falkowitz, Managing Attorney
(800) LAW-INFO
(800) 529-4636
http://www.yourlawyer.com