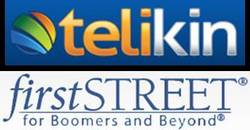 The alliance with firstSTREET is a huge testament to the design and technology approach we used to create Telikin.
Colonial Heights, VA (PRWEB) January 7, 2011
Telikin, the easy to use touch screen home computer, announced today that firstSTREET, the leading direct marketer in the U.S. of innovative products for baby boomers and beyond, has signed an agreement to market the industry's most intuitive home entertainment computer under the firstSTREET brand.
"We have built a reputation over the past 5 years of serving baby boomers and beyond with trusted, top of the line products and services," said Mark R. Gordon, chief executive officer at firstSTREET. "We are excited to have a simple, yet comprehensive computer that integrates the top functionality most sought after by our customers. It makes advanced features such as video chat, photo sharing and social networking easy to use. It will undoubtedly be a game changer."
firstSTREET will market the computer under the firstSTREET brand through consumer magazines, direct mail, the internet and the firstSTREET catalog. The computer will provide a simple to use, touchscreen device with pre-loaded applications and an integrated menu of the top interest functions, including video chat, photo sharing, email, and web browsing, including local and national news, weather, calendar, shopping, game and health sites.
"The alliance with firstSTREET is a huge testament to the design and technology approach we used to create Telikin," said Fred Allegrezza, co-founder and CEO of Telikin. "The alliance ensures that firstSTREET customers are purchasing the very best product available in the marketplace without the hassles of current personal computers." The product comes with its software fully installed, ready to go out of the box with friendly customer support and will be available in March 2011.
About Telikin
Telikin is the easiest to use, touch screen computer that integrates popular features such as video chat, photo sharing, email, contacts, news, weather, documents and a full Web browser in a sleek, simple system. Minus the viruses, pop-ups and additional cost and number of applications required to operate current computers, the large monitor, intuitive user interface and easy menu of popular functions helps people stay connected with family, friends and the world. Find out more at http://www.telikin.com or call 800-230-3881.
About firstSTREET
firstSTREET is headquartered in Colonial Heights, Va. and is the leading direct marketer of innovative products for Boomers and Beyond in the United States. Its products are advertised in virtually all of America's major magazines targeted to aging consumers and marketed to a house file of over 2.5 million customers (average age--70) via monthly catalogs and direct mail. The award winning http://www.firststreetonline.com web-site attracts over 1.5 million visitors per year...ranking it as one of the top 'Boomer and Beyond' destination sites on the internet.
# # #