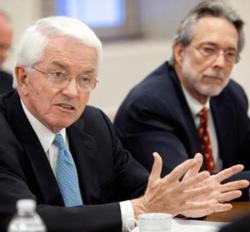 The stronger brands can drive people's loyalty and ultimately command a premium in the marketplace. When it comes to a nation like the US, the analogy would be the degree to which its brand wins over hearts and minds." ~ Interbrand.com
Minneapolis. Minnesota (PRWEB) November 28, 2012
As the White House sits down with the Chamber on the Fiscal Cliff hot topic, both sides are, from a media viewpoint, using a Marketers influence to press lawmakers toward their brand's view. "Branding and brand influence is as important to politicians as it is to businesses. The presidential election had Marketers busy comparing Romney and Obama personal brands while ad agencies spent a sum of $1.057 billion, according to Open Secrets. Advertisements ran about the candidates themselves and, more importantly, about the positions they held," says Eric Sims, owner of Integral Media.
Bloomberg reported today that the chamber, has pledged a $50 million minimum on political advertising backing Republican candidates. It must now draw on relational influence for success to bridge the election ad messages that are still within hearing distance.
"The chamber expects to have a seat at the table, but the table is set by people it just tried to politically kill," Dennis Kelleher, president and chief executive officer of Better Markets, a Washington-based nonprofit, said in an interview.
Roll Call under the heading of "Influence" quotes Thomas Donohue, president and CEO of the U.S. Chamber of Commerce, as saying last week, "We've still got a pretty damn good brand," adding that Donohue said he planned to "bring that brand — and its expansive grass-roots network — to press lawmakers over the coming weeks to avoid the fiscal cliff and to buy themselves time for comprehensive tax and entitlement reforms".
Integral Media, says, "Influence leads the results of marketing success by participating in conversations with your audience and eliminating negative voices. Marketers leverage influence in conversations by being actively involved in them. Being behind office walls can limit participation. Find ways to start and lead conversations that open up opportunities to improve brand perception. Leading conversations about brand for business services, or getting a certain view across, requires an active, professional, relatable, carefully edited and curated message, with a positive voice of influence."
Print advertisements in Washington magazine and newspaper publications are getting their view across by borrowing brand slogans from McDonald's Corp. and Nike Inc., like: "I'm Fixin' It" and "Just Fix It." The White House "Winning The Future" mantra is put to test by the threatening Fiscal Cliff.
Keeping advertisement messages unified strengthen brand image. The Covenant Group recently said, "The advertisements you place in print publications must carry a similar message to those you display online as well as the blog posts, newspaper columns or newsletters you write. In this marketing mix, we sometimes forget about one of the most powerful channels: word of mouth. Recommendations, referrals, endorsements, and introductions from the clients you currently serve can significantly impact your circles of influence."
Marketers must know their varied audience's language. That may well mean a literal language, placing advertisements that are carefully crafted and translated into multiple languages. It also means being able to use speech and jargon that best reaches both young and old individuals from our lower income to wealthier populations. Joel DelGrosso, executive VP and managing director of political and advocacy sales at Univision, did just this. "Latinos want to hear from this candidate (Obama) why he should be their choice," said DelGrosso. President Obama accomplished a marvelous relational feat reaching the Latino audience by launching his Spanish campaign before he introduced his English campaign. Establishing a sense of importance for the Latino vote may well have been an influence that carried the election.
Interbrand.com sums up an image of the White House and Chamber of Commerce brands and their respective spheres of influence in a tidy statement, "Then, finally, there's the elephant — and the donkey — in the room: the two sub-brands of the major political parties. As sub-brands, The Republican Party and the Democratic Party have always had their own stories, their own ideas (or ideologies), with whole streams of separate products (policies) cascading from their identities."
Recommendations, referrals, endorsements, and introductions are all part of the relational influence that offers a tremendous boost to marketing and advertising success. Integral Media's extensive expertise in the media marketplace ensures a familiarity with each magazine, its audience, and its performance history, having industry relationships and partnerships that make integrated media seamless. Call 952-470-5254 to engage marketing that works.