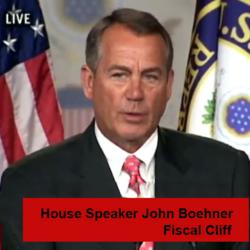 "If the act expires, you will be asking people to pay cash on an income they never received and with cash they don't have. I think that is well-understood, especially by members of the Florida delegation." ~ John DiBiase
Minneapolis, MN (PRWEB) December 04, 2012
Led by a Reduplicate offer to Congress yesterday, the message tone has changed and demands home tax beaks that help homeowners and for serious spending cuts to avoid the fiscal cliff. In the midst of mania on the part of some homeowners to close short sale deals and avoid the December 31 expiration of tax breaks, housing supporters and real estate professionals are uniting and strong.
1) According to Boston Globe, yesterday, House Republicans put forth a $2.2 trillion "fiscal cliff" counteroffer to President Barack Obama, heralded by House Speaker John Boehner. The White House immediately rejected it saying it contains too few specifics on how funds would come from closing loopholes and deductions, as Boehner proposed, versus Obama's way by means of raising taxes. Hoping congress would "respond in a timely and responsible way", Republican are calling for raising the eligibility age for Medicare, lowering cost-of-living hikes for Social Security benefits and bringing in $800 billion in higher tax revenue.
Many are questioning where tax hikes will reach, and what will happen to the American dream of homeownership, if government keeps growing faster than the private economy.
Destiny Homes owner, Butch Sprenger, says, "
Home builders and remodelers are leading the housing market recovery, which is attributed for leading our economy by increases in home equity, new construction and the number of sold homes. We are at the edge of the fiscal cliff, and for some, on edge in general."
2) The Center for Responsible Lending, a nonprofit group advocating for homeownership, and the Financial Services Roundtable, home mortgage lenders from the nation's largest financial institutions, united in asking Congress to extend the Mortgage Forgiveness Debt Relief Act, which will otherwise expire shortly on December 31.
The two organizations express concern that allowing the Mortgage Forgiveness Debt Relief Act to expire at the end of the year will hinder the budding recovery. "Our tax policy should not result in bad housing policy that will prolong a foreclosure crisis that has already gone on for too long," the groups state in their co-authored letter to lawmakers.
3) At the same time, the Congressional Budget Office estimates extending the relief could cost $1.3 billion in lost revenue to the federal government during a period when it is "desperate for money," said Anthony Sanders, a George Mason University real estate finance professor who is in favor of an extension. "People are already suffering enough who go through default and foreclosure, and to suddenly give them a tax bill is incredibly cold-hearted," Sanders said. "The government was a major contributor to the housing bubble and burst, so it's only fair that it extend the act to help households that have been absolutely crushed by the market."
4) Spencer Rascoff, chief executive officer of Zillow Inc., talks about the U.S. housing market on Bloomberg and says it has come through the worst and that more people say they are ready to buy a home now than in the last five years. Zillow did an analysis that included a 12 month increase. Home shoppers are back. Home values are going up; and homes are selling. He projects home prices will go up 2% in the next year.Zillow has been bucking the fiscal cliff. When asked if there was any selling out of stock due to the pending fiscal cliff, three day ago Rascoff said, "No, for us we are long-term believers. Near term changes to the tax code are not effecting us.
Congress is spinning to the final 28 days left to head off an economically toxic combination of tax increases and budget cut hits. "No one can say exactly what to expect if we go over the cliff. Two things are sure, we will know shortly and homeowners who have been cautious to savor a saving account will be in the better place," comments Sprenger.
Additionally, some homeowners wonder how the new home sales tax, which is also implemented on January 1, 2013, or which homeowners who sell their homes will be taxed..
If you are seeking to build or renovate your home and live in the Minneapolis / St Paul area, call Destiny Homes at 952-934-5706.