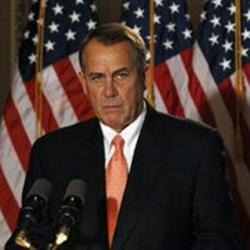 Even when the public has been asked whether they want news from their point of view,
the clear preference is that the news have no particular point of view. ~ Pew Research
Minneapolis, Minnesota (PRWEB) December 24, 2012
Whether it is TV, radio, newspapers, magazines, newsletters or anything and everything digital, U.S. citizens are absorbing tremendous volumes of news coverage about our pending fiscal cliff. CNN's State Of the Union Sunday put citizen concerns, fears and legislator's finger pointing right out in front in media news.
"Naturally it is riveting as its impact is largely unknown and indeterminate, yet its application will impact everyone, to whatever measure 2013 holds in its palm," says Eric Sims, owner of Integral Media. People as asking, "Is this breathless media coverage fed by fear-mongering or helping citizens stay informed through today's privileged opportunity to have immediate news of how our elected leaders are advocating for us in Washington?"
Pew Research Center in an article titled Trends in News Consumption: 1991-2012, says, "Despite the rapid growth of digital news, more Americans continue to get news from traditional news platforms than from digital platforms. Seven in ten (71%) say they watched television news, read a print newspaper or listened to radio news yesterday. That compares with 50% who got news from one or more digital platforms". Tracking the media since 1985, The Pew Research Center for the People & the Press additionally said, "News organizations are more trusted sources of information than are many other institutions, including government and business."
"Fitch has identified the US fiscal cliff as the single biggest, near-term threat to the world economy, given its potential to tip the US into an unnecessary and avoidable recession, with negative implications for global growth," as stated severely in a press release titled, Fitch: Eurozone Crisis and US Fiscal Cliff Risk Dominate Sovereign Outlook. Readers found the terms soften a bit with the added statement, "However, the agency's base case expectation is that a compromise will be reached to avoid the USD600bn of tax increases and spending cuts due to come into effect on 1 January 2013".
Fitch is standing behind it research summary by issuing a warning that the U.S. is more likely to lose its high marks, or "AAA" rating if lawmakers remain at odds on how to cut the deficit, and send U.S. citizens over the "fiscal cliff".
An article titled Needed: Sherpas To Guide Us Through Fiscal Cliff Panic, The Columbia Journalism Review asked for the media to bring messages offering more assurance. "As the days dwindle down to a precious few before Washington reaches its statutory tax and budgetary deadlines, the news media should spend more time comforting the afflicted rather than scaring them. Readers, for example, should know that their taxes only go up when the IRS adjusts its withholding tables - and not when the ball comes down on New Year's Eve. What we need are more sherpas from the press to help us get to the summit of the fiscal cliff honestly, realistically, and with a minimum of panic," the review requested.
Obvious from the title The "Fiscal Cliff" Is A Diversion: The Derivatives Tsunami and the Dollar Bubble, California's Global Research believes the media is too full of hype. "The 'fiscal cliff' is another hoax designed to shift the attention of policymakers, the media, and the attentive public, if any, from huge problems to small ones. The fiscal cliff requires that the federal government cut spending by $1.3 trillion over ten years. The Guardian reports that means the federal deficit has to be reduced about $109 billion per year or 3 percent of the current budget. More simply, just divide $1.3 trillion by ten and it comes to $130 billion per year. This can be done by simply taking a three month vacation each year from Washington's wars."
Opinions vary from CJR saying, "The media has only displayed intermittent skepticism about these claims—and, as a result, has been complicit in fiscal cliff hyperbole. In this case, it is the job of the press to lessen stress rather than exaggerate it," to Fitch's fair warnings that the looming threat of the US fiscal cliff is a key factor exerting a negative influence on 'AAA'-rated sovereigns. Either way, the proliferation of integrated media channels has brought us all to see the impact of the weight of the matter on our legislators faces. One can hardly doubt the intensity of long hours, very, very hard work, and the sincere effort that our leaders have put into seeking an agreement and best resolution, comments Sims.
Given concerned citizens' quest for knowledge and understanding, hours of analysis, commentary, reporting, and marketing from virtually every major news organization are sure to continue through Christmas regardless of hopes to rest from our guard and purely celebrate the message of peace this season offers. Contact Integral Media for marketing consultants and experts in traditional media. Call 952-470-5254.