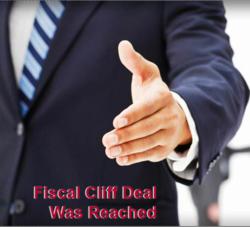 "The resolution of the fiscal cliff now gives way to a series of mini-cliffs" ~ NAHB
Minneapolis, Minnesota (PRWEB) January 03, 2013
Fiscal cliff H.R. 8, legislation passed the House and the Senate on January 1, 2012, according to the Legislative Digest. Hopes are that it will positively impact family-owned construction businesses - the back bone of the new construction industry.
"The resolution of the fiscal cliff now gives way to a series of mini-cliffs due to the need to raise the debt ceiling, establishing government spending levels and deal with the sequester", said the National Association of Home Builders (NAHB). yesterday in an article titled "Fiscal Cliff Avoided: What it Means for Housing and Home Builders".
"The late night agreement holds at bay the fiscal cliff's automatic tax increases and federal spending cuts which involve programs important to real estate and impact construction owners and household wealth", says Butch Sprenger, owner of Destiny Homes, a Minneapolis home builder.
The enactment of H.R. 8, the American Taxpayer Relief Act of 2012 salvages most of the 2001/2003 homeowner tax cuts and family-owned construction firms by a temporary extension. "The legislation prevents a fiscal drag of approximately $600 billion in 2013, which would have been large enough to push the current weak economy into recession. That in turn would have reduced demand for both owner-occupied and renter housing and threatened the ongoing recovery for home building", according to the National Association of Home Builders (NAHB).
Current Benefits Gained For Construction Firms
The major fiscal cliff threat had been temporarily averted, however it will continue challenging Minneapolis construction firms as it spins into mini-cliffs.
1) Permanently extends the 2001/2003 tax rates for adjusted gross income levels under $450,000 ($400,000 single); good for small business and home builders, 80% of whom are pass-thru entities who pay taxes on the individual side of the code
2) Permanently extends the Alternative Minimum Tax (AMT); again, good for small business owners who are frequently at risk of paying AMT. The AMT is permanently adjusted for inflation, making it unnecessary for Congress to adjust it each year.
3) Permanently sets the parameters of the estate tax; which benefits family owned construction firms; and put to code the 2010 $5 million exemption amount (indexed to inflation) and a 40% estate tax rate. The top rate is $10 million for family estates.
4) Extends present law section 179 small business expensing through the end of 2013; which is important for basic cash flow and offers administrative cost benefits for small firms
5) Extends the section 45L new energy-efficient home tax credit through the end of 2013; allows a $2,000 tax credit for the construction of for sale green homes and for-lease energy efficient homes in buildings with fewer than three floors above grade
Senate and House Passed H.R. 8, Legislation To Forestall the "Fiscal Cliff."
Here is summarized list compiled by Destiny Homes of key provisions in the bill that will impact residential construction and the housing market:

Mortgage Cancellation Relief was granted a one year extension to Jan. 1, 2014. This is vital help for homeowners who gained a modification and those who struggled making mortgage payments and forfeited their home to foreclosure or short sale.
The 10 percent homeowner tax credit of up to $500 for energy improvements made to renovate existing homes is extended through 2013 and made retroactive throughout 2012.
The homeowner deduction for Mortgage Insurance Premiums for individuals / families making under $110,000 is extended through 2013 and made retroactive for2012
In the year to year bigger picture, construction spending gained substantially.
The U.S. Census Bureau of the Department of Commerce announced yesterday that construction spending during November 2012 was estimated at a seasonally adjusted annual rate of $866.0 billion, 0.3 percent (±1.6%) lower than the updated October estimate of $868.2 billion. November 2012's figure is 7.7 percent (±2.0%) higher than the November 2011 estimate of $804.0 billion.
Mini-Cliffs Just Ahead:
1. Debt Ceiling: In the July 2012 report titled "Analysis of 2011-2012 Actions Taken and Effect of Delayed on Borrowing Costs", the Government Accountability Office said the 2011 debt ceiling fight wasted $1.3 billion in taxpayer money because of the uncertainty it wrought on the complex task of federal borrowing.
2. Demands for Budget Resolution: A need to get past short-term fixes as lawmakers deliberate over the right spending levels for each federal agency and create a budget.
3. Sequester: Automatic cuts in federal spending that are necessary to reduce the budgets of most agencies and programs by 8% to 10%.
Destiny Homes, a family owned construction business says, "While November's results are lower than October, a yearly overview is important.". In year-to-year comparisons of the first 11 months, construction spending totaled $781.4 billion, or 9.2 percent (±1.3%), surpassing $715.4 billion recorded for the same 2011 period, according to the Census Bureau Construction Spending Report.
Call Destiny Homes at 952-934-5706 to schedule a home build or renovation