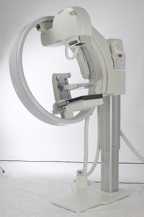 ". . . enables the mammogram procedure to be done face-to-face; a benefit to radiologists, technologists, and patients alike."
Las Vegas, NV (PRWEB) March 13, 2012
Fischer Medical Technologies LLC (Fisher Medical), announces from the National Interdisciplinary Breast Center Conference that it has been named exclusive U.S. distributor of GIOTTO's Full Field Digital Mammography (FFDM) systems.
After receiving 510(k) clearance by the FDA in November 2011 for the GIOTTO FFDM system, I.M.S. Srl (Internazionale Medico Scientifica) of Bologna Italy and Fischer Medical of Broomfield, Colorado signed a multi-year distribution agreement. The newly formed Fischer-GIOTTO division is headed by Bob Rusk, who formerly managed GIOTTO-USA.
The unique design of the GIOTTO system makes it possible to dedicate a single room for both upright mammography, as well as prone stereotactic biopsy. The innovative tilting gantry ensures optimal positioning so that more breast tissue is included in the imaging field, increasing the ability to detect small cancers on the chest wall. It also enables the mammogram procedure to be done "face to face;" a benefit to radiologists, technologists, and patients alike. The ring design of the GIOTTO system allows easy positioning of disabled wheelchair patients – the only known mammography system with this capability.
Morgan W. Nields, Chairman and CEO of Fischer Medical said, "We are delighted with this agreement since the GIOTTO FFDM system has been installed in over 500 sites around the world and has demonstrated a proven track record of superb image quality and reliability."
Vice President of International Sales at IMS in Bologna, Achille Alabanse said, "We have been gaining market share throughout the world and are very pleased to join forces with Fischer Medical. This agreement leverages Fischer's deep knowledge and installed base of prone biopsy systems in the US."
ABOUT FISCHER MEDICAL TECHNOLOGIES
Fischer's roots go back to 1910, when H.G. Fischer, the oldest manufacturer of X-ray imaging devices in the United States, began its operation in Chicago, IL. Fischer Medical Technologies LLC is based in Broomfield, Colorado and is the successor company to Fischer Imaging. Fischer Medical was formed in 2006 by the original founders of Fischer Imaging, and acquired the assets of Fischer Imaging, including all patents, trademarks, product designs, and 510(k) filings. Fischer's focus is on developing differentiated technologies to improve imaging systems' efficiency and effectiveness though innovative and creative designs. Contact Bob Rusk, Director of the Fischer-GIOTTO Division at bobr(at)giottousa(dot)com.
ABOUT IMS ITALY
IMS Internazional Medico Scientifica srl was founded in 1965 by Bruno Toniolo, today the IMS president. The company has been active in the world market as a general x-ray manufacturer since 1990 when the GIOTTO mammography unit was launched. Due to the immediate success of this innovative device, today IMS is fully devoted to FFDM, breast biopsy and breast Tomosynthesis. IMS has an extensive R&D department, always working on new projects, including: angiomammography, breast biopsy under Tomo guide, a 3-in-1 system (mammography, prone biopsy and tomosynthesis), and breast density software. For more information, visit http://www.imsitaly.com