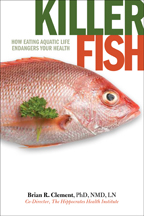 Pesticides, fungicides, herbicides, mercury, PCBs, dioxins, and pharmaceuticals lead the list of toxins that can be found in our oceans.
Summertown, TN (PRWEB) September 28, 2012
There is much greater danger in the sea than sharks. Sushi and fish consumption in general pose a larger and more real threat to human health. Killer Fish, by acclaimed expert in preventive medicine and natural health Brian Clement, pulls back the veil on the consequences of eating fish and shines a compelling light on the perils of marine life and the waterways we share.
Consumers are alerted to the steady stream of industrial and consumer pollutants that are constantly added to the world's waters and decimating marine ecosystems. Pesticides, fungicides, herbicides, mercury, polychlorinated biphenyls (PCBs), dioxins, and pharmaceuticals lead the list of toxins that can be found in our oceans. These chemicals love fat and bio-accumulate in the fat cells of fish, and then anyone who eats them. The effects on the health of the environment are equally devastating.
Killer Fish offers comprehensive coverage of the prevalent issues on how fish and their habitats have become polluted and the effects of fish consumption on human health—which includes memory impairment, cancer, heart disease and damage to reproductive organs. Clement debunks the myth that eating farmed fish is safe and shows that despite many mainstream nutrition experts claiming that fish is a healthful alternative to red meat and dairy products because of its omega-3 fatty acid content, overwhelming evidence suggests otherwise. He also addresses the loss of over 80% of large oceangoing fish due to overfishing by the world's four million fishing vessels. It is sobering to understand the far-reaching scope of the problems at hand.
Brian Clement has spent more than three decades studying nutrition and natural healthcare with graduate degrees in both naturopathic medicine and nutritional science. He is co-director with his wife, Anna Maria Clement, of the Hippocrates Health Institute in West Palm Beach, Florida. They have numerous titles on the healing programs and diet offered at Hippocrates.
Book Publishing Company, based in Summertown, Tennessee, has had a publishing partnership with Hippocrates Institute for a number of years, including releasing last year's Killer Clothes. This consumer awareness guide detailed the effects of numerous harmful chemicals and additives added to synthetic clothing on human health.
While government and food industry agencies have been lax in placing meaningful warning labels on fish products, medical communities and marine scientists around the globe have been issuing alerts about this escalating health dilemma for many years. Fish advisories posted by the United States Environmental Protection Agency have targeted all fifty states, four US territories, and all of Canada's twelve provinces and territories. Clement advisories to find out if there are fish advisories in your area by visiting the EPA's site epa.gov and search "fish consumption advisories."
While the section on omega-3 and health recommends a number of plant-based sources as healthful alternatives for essential fatty acids in place of fish and fish oil, there are no easy solutions to the wide-scale contamination of our waterways and decimation of marine life. By educating and alerting consumers, Killer Fish provides a valuable service by allowing them to safeguard their health and become aware of the current state of affairs with our waterways—the first step in addressing and reversing any problem.