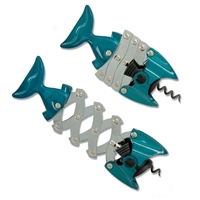 San Francisco, CA (PRWEB) January 15, 2013
Thelefthandstore.com revives two well loved 1920's corkscrew designs in all new left-handed versions, the Lazy Fish and Minnow Left-Handed Corkscrews. Left-Handed corkscrews turn counter-clockwise, the opposite direction from right-handed corkscrews, matching the natural and easy motion for a left hand. A right hand naturally rotates a tool or turning device clockwise, but this motion is difficult and awkward, even painful, when undertaken with the left hand.
To make a left-handed corkscrew, the screw or augur must spiral up reversed from the right-handed version, required a specially tooled manufacturing process. Like many devices specially designed for left-handed use, they are very hard to find.
Thelefthandstore.com is committed to offering the world's most interesting, well designed, and useful selection of left-handed tools and other products. After researching corkscrew designs and interviewing manufacturers for several years, these two remarkable custom left-handed corkscrews were designed. The lefthandstore.com's two new left-handed corkscrews are now available in two versions, and have proven extremely popular.
The Left-Handed Zig-Zag Fish Corkscrew is a colorful variation on a much loved 1920's design. The fish's body is made of an expandable tong, so the corkscrew requires far less force to pull the cork out than other types of corkscrews. This style of corkscrew is sometimes called the "Lazy Fish".
The Left-handed Minnow Waiter's Corkscrew is a sleek and elegant smaller tool especially designed to fit in a waiter's pocket. Like the Zig-Zag Fish Corkscrew, the minnow is based on an older design which is a favorite of waiters. It has never before been offered in a left-handed version, and its blue and silver color is both fun and very attractive.
The Left-Handed Fish Corkscrew is larger, an attractive device to leave out on the bar at home. As the name implies the compact Left-Handed Minnow can easily go anywhere bottles of wine might be travel.
Thelefthandstore.com is devoted to helping lefties of all ages live more comfortable and productive lives, and offers the world's largest selection of left-handed tools and gifts. To see the corkscrews and other left-handed products in person, visit the stores in Pier 39 in San Francisco, The Marketplace at Downtown Disney in Walt Disney World, FL, and Old Town Kissimmee, FL.