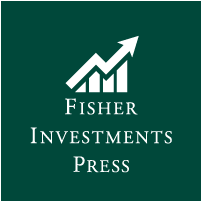 Woodside, CA (PRWEB) July 15, 2011
Books from Fisher Investments Press, a publishing imprint from Fisher Investments and John Wiley & Sons, Inc., are now available through Apple's iTunes store. Launched by Apple in 2001, iTunes is a leading retailer of digital media, including music, movies, television shows and podcasts. Since March 2010, Apple has distributed the iBooks application through iTunes, making digital books available for the iPhone, iPad, iPod Touch, and any personal computer running iTunes.
Produced in partnership with John Wiley & Sons, Inc., Fisher Investments Press (FIP) is the first ever imprint from a money manager. FIP makes available the research, analysis, and market insight of Fisher Investments' research team, headed by CEO and New York Times best-selling author Ken Fisher, to all investors. Titles under FIP cover a range of investing and market-related topics for a wide audience, from novices to enthusiasts to professionals.
Also available are books by Fisher Investments' Investment Policy Committee member Aaron Anderson and research manager Michael Hanson. Anderson's first book, Own the World, details tips for investing successfully in today's global age. Hanson's book, 20/20 Money, teaches investors how to see the market more clearly. As he wrote, "Too many investors are blinded by conventional investing ideas that don't work. This book is about seeing the stock investing landscape clearly—investigating new ideas and challenging widely held conventions. I wrote this book to tell investors the things I wish they knew about investing, to give them a clearer view and thus make better decisions."
Fisher Investments Press also includes guides on investing in different sectors of the market, including Energy, Materials, Technology, Emerging Markets, and Utilities. These guides give a basic overview of each sector, its history, and the different inputs that drive its performance. The guides also explain different investing strategies and how each sector can fit within a diversified portfolio.
In addition to iTunes, books from Fisher Investments Press are also available in print and various e-reader formats, through Amazon.com, Barnes & Noble, Borders and other retail outlets.
About Fisher Investments
Founded in 1979, Fisher Investments is an independent, privately-owned money management firm with more than $44 billion (as of 6/30/11) under management. Fisher Investments maintains two principal business units, Fisher Investments Institutional Group and Fisher Investments Private Client Group, which serve a global client base of diverse investors. Fisher Investments' clients include over 100 large institutions and over 25,000 high net worth individuals. Founder and CEO Ken Fisher has written the Forbes "Portfolio Strategy" column for 26 years, has written 7 books on investing and personal finance (4 of which are bestsellers), and was recently named by Investment Advisor magazine as one of the 30 most influential industry individuals in the last 30 years (Thirty for Thirty, May 2010). For more information visit http://www.fisherinvestments.com/.
# # #